"I keep on repeating, I'll say it for the last time—I'm not on some ego trip."-Robert Maxwell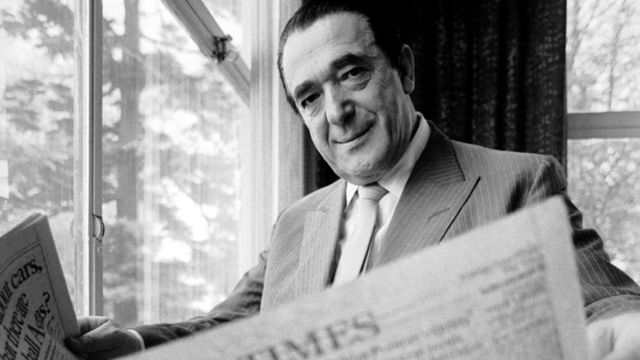 Lived From 1923-1991
Publisher, Politician, Media Mogul
Head of the "Daily Mirror" Publications
>>Play 1987 Interview with Robert Maxwell & Desert Island Records (MP3)
Memorable Quotes:
"You are as safe with me as you would be in the Bank of England."
"The thing I would most like to see invented is a way of teaching children and grown-ups the difference between right and wrong."
"I came from a very poor family…we didn't have enough to eat…All I remember was being hungry most of the time."
"In Czechoslovakia…you need to speak one or two languages. I discovered though I had a gift quite early on, I could learn a language quickly…When I landed [in Britain] I didn't speak a word of english, but yet within about six to eight weeks I spoke it [perfectly]."
Life and Career:
-Was born Ján Ludvík Hyman Binyamin Hoch, to a large Yiddish speaking Jewish family in Czechoslovakia.
-Most of his family was sent to and killed in Auschwitz after his hometown was occupied by the Nazi regime. Maxwell had narrowly escaped to France with his life intact(story told in Desert Island interview above).
-As a young adult he joined the British Army, working his way up the ranks. British Intelligence changed his name several times, before concluding on Robert Maxwell.
-After World War II, Maxwell served as a government media censor before using his industry contacts to begin his own media distribution business.
-In 1964, representing the Labour Party, Maxwell was elected as Member of Parliament (MP) for Buckingham(while still running his publication business). He was re-elected in 1966, but lost in 1970 to the Conservative William Benyon.
-After a few decades of publishing deals, shrewd management, and M&A's, Maxwell acquired the Mirror Group Newspapers company in 1984, which offered several leading "Mirror" brand publications. Maxwell became one of the world's leading media barons, and was even engaged in a bitter public rivalry with NewsCorp's Rupert Murdoch.
-Led the Oxford United Football Club out of bankruptcy, winning the League Cup in 1986.
Downfall:
-By the late 1980's, Maxwell's companies were saddled with enormous debts, forcing him to sell off assets and take other desperate measures. After his death, it was revealed he stole hundreds of millions of pounds from his companies' pension funds to keep the Mirror Group afloat.
-With his empire crumbling around him, Maxwell mysteriously died on November 5, 1991, at the age of 68. He was presumed to have fallen overboard from his yacht, which was cruising off the Canary Islands. The official ruling was death by accidental drowning, but the timing left many suspecting he had taken his own life. The former war hero turned media mogul ultimately died in disgrace. A victim of his own excesses and ego.
Learning More:
-To learn more about Robert Maxwell, watch this impressive 2008 BBC made for TV movie about the final years of his life.
For additional learning see:
Wikipedia
30 Minutes on Maxwell's 1984 takeover of the Mirror Group