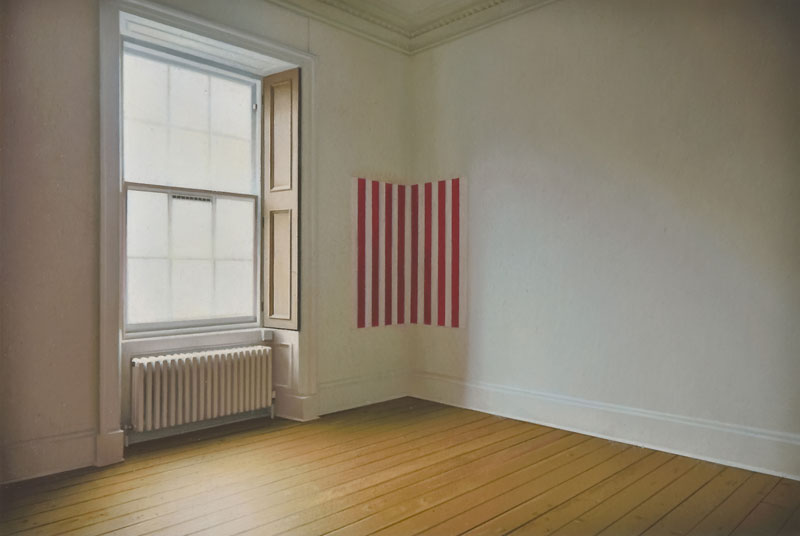 Photo:Ingleby Gallery with Daniel Buren, 2008 by Andrew Grassie via renniecollection.org
Quick, how big is the piece of art shown above?
The easy way to get to the answer is to take a quick look at the room, estimate the size of the radiator or the window and make an estimate. Maybe 4′ x 4′.
Wrong.
A hint would be that the art work is not the red stripes in the corner, but the whole thing. So probably the next conclusion would be that it's a photgraph of a piece of art work.
Wrong.
This is a painting of an art installation by Andrew Grassie. It's about as big as the image you see on your home computer, give or take an inch. Below is an installation shot.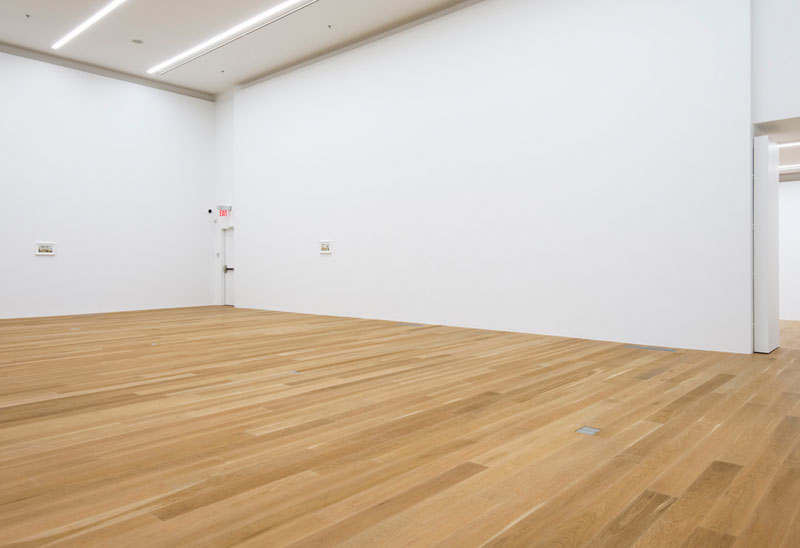 Andrew Grassie at Wing Sang, Rennie Collection, installation shot via renniecollection.org
Is that funny or what?
The internet is no place to look at art. Without being in front of something, in a lot of ways you might as well not even bother.
My grandfather travelled a lot on his own and would take photos of things he saw along the way. Being by himself, any time he took a photo of a particulariy large scorpion carcus or other naturally occuring phenomenon he would place his buck knife in the focus of the picture somewhere. How would you know that is a 6′ cactus if you couldn't see his knife or a pack of smokes somewhere next to it?
The point is the internet has no buck knife. Seeing the dimensions in the notes somewhere helps but standing in front of something and feeling it's physical space, big or small, determines the way that you react to it. Grassie above and Kehinde Wiley below understand that scale can aftect viewer in different ways.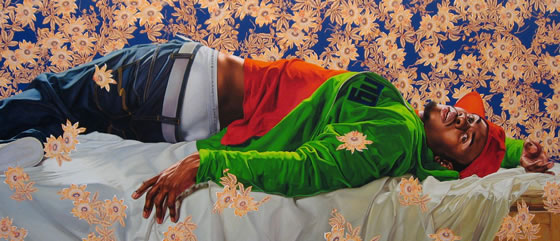 Femme Piquee par un Serpent, Kehinde Wiley, 2010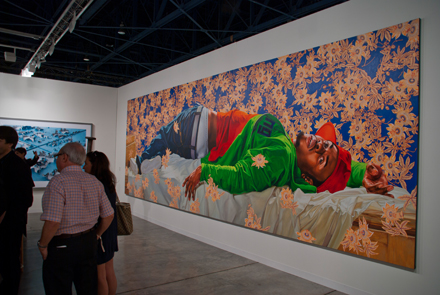 Femme Piquee par un Serpent, installation view at Art Basel 2010
So two highly skilled artists use scale to make an impression in different ways. The screen shows neither, nor details like brush strokes, texture or any sense of a human hand in the work. There are very few pieces of artwork that translate these things well to a jpeg.
Andrew Grassie is a photorealistic painter and at a glance it's very hard to tell it is a painting. The interesting thing about the recent show at Bob Rennie's Wing Sang gallery opening of Andrew Grassie's work is how these tiny paintings, averaging about 5″ x 7″, is how they reacted with the space.
Even without knowing the history, Bob was clearly not pushing out another project with his eyes closed when he built Wing Sang. It is a very well considered space made for substantial work to show respect to his extensive personal collection. So placing these tiny paintings in this huge space did two things, made the work look even tinier and the rooms look gargantuan.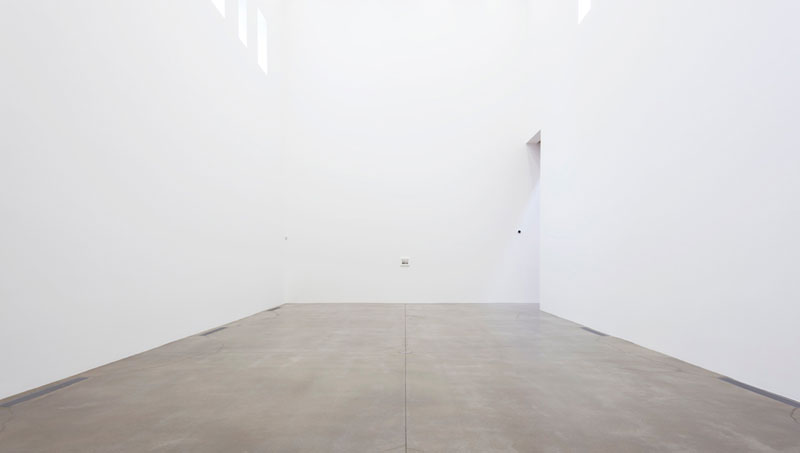 Andrew Grassie at Wing Sang, Rennie Collection, installation shot via renniecollection.org
And the affect on the crowd was even more interesting. Everyone seemed to think it was amazing work, but the crowd seemed uncomfortable in these giant rooms with nothing to clamour around. They tried, small clusters of 6 or 8 people around these little pieces made for traffic jams and a lot of body contact for any one trying to see the work.
The best room for me was the smallest one there where the scale of the building didn't loom over us. In a small space, the crowd was more relaxed and gave the work room. It was a brilliantly laid out show by controlling the intimacy people had to the work. Say what you want about Bob, I doubt that didn't happen by accident.
So can you buy a 20″ x 30″ print of the Andrew Grassie paintings at the Rennie Marketing gift shop? Obviously not, but someone like Kehinde Wiley pictured above I'm sure does great business in reproductions. It's easy to go smaller. But for Grassie, it would go against the point of the work. And both would agree that something is lost, or changed, or just wrong.
Almost no one makes work that looks best seen on a computer screen. It is the one things that advances in resolution can't resolve; how to replace the presence of a piece of art work in person.
Presence cannot be explained, try as we might. Scale is an easy thing to discuss on a blog, but presence is much much harder. If you haven't yet been touched by standing in front of something and shocked by it's presence then I would suggest you get out and start looking for that experience. Anyone who has experienced it will tell you it's worth it.
Unsure how to do that? Next week we will discuss how to go and see art in person.