For most of us, the auction house doesn't really inspire excitement. I think of old dead work and old people. Kate Bellringer, who runs the contemporary art section of Maynard's Fine Art department, is the exact kind of person to change that image. Young, enthusiastic, intelligent and honest, she made me want to start paying closer attention to the auction house.
Kate's perspective is refreshing; she see's the results of bad buying decisions and scammers, as well as big finds (like the buy of two $150,000 paintings at a local garage sale for $100). Below Kate shares a bit about her world and offers some suggestions for making educated art buying decisions.
Q&A:
Joseph Staples: Tell us a little about how you ended up in your current position overseeing the contemporary art section of Maynard's.
Kate Bellringer: I had recently moved back home to Vancouver after completing a  Masters degree in Contemporary Art History from the Sotheby's Institute in New York, but I had never thought of working for an auction house myself. After working in the commercial art world in Toronto, I was hoping to find a position at a local museum- but nothing was available. Maynards had just moved to its new showroom on Main Street when Barry Scott, the owner and President of Maynards, asked me to come meet with him to discuss the position. I've been with Maynards for three years and I still think I have one of the most interesting jobs in the city.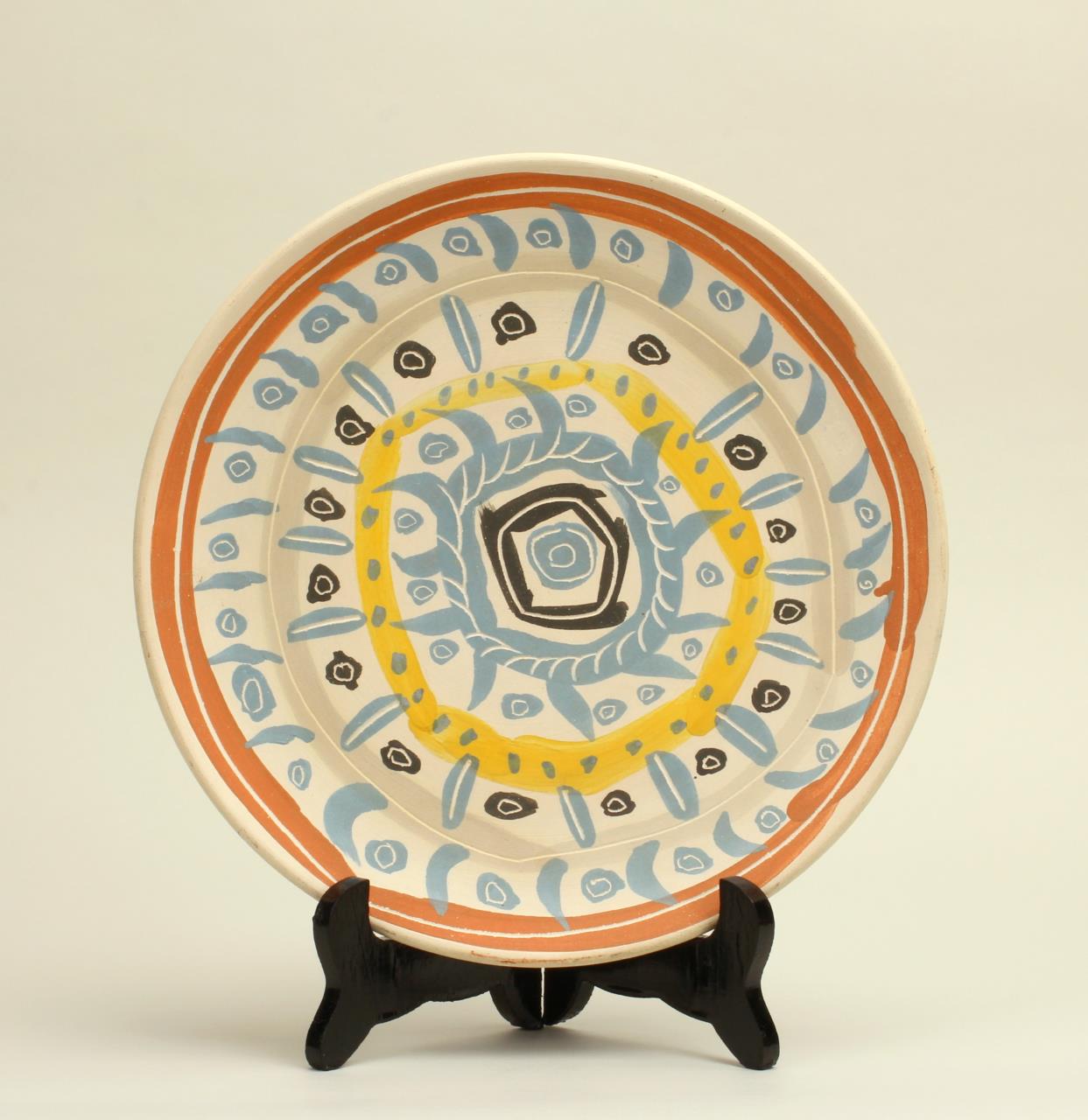 Pablo Picasso, Motif Spirale partially glazed ceramic plate, 9 3/4″ diameter.

JS: What's involved in your day to day work at Maynard's? I was surprised on the amount of time you spend on research.
Kate Bellringer: Every day I look at art. I never know what is going to come through the doors of Maynards or appear in my email inbox. Yes, there is a ton of research to be done on each work of art to determine the history and authenticity, as well as whether the secondary market demand is strong enough to offer the item at auction. People are constantly showing me what they have in hopes that it will have significant auction value potential.  Once the art has been consigned to Maynards, my role shifts to advertising the art in order to get as many bidders as possible interested on the auction day. Prior to the auction we have a Preview when the public can come in to Maynards to inspect the art and new and experienced buyers can ask me questions- I love helping people find art. The anticipation builds in days leading up to the auction, as we receive requests for condition reports and we register absentee and telephone bids, and I can usually get a sense of where the interests lie. But still, anything can happen on auction night. And the next morning I start the whole process of building an auction all over again for another Contemporary and Canadian Art auction in six months time.
JS: Dealing with the contemporary art side of the Maynard's must be different than the other sides of business. How would you compare your relationship with the bidders and artists compared to a gallery or museum setting? Are there any parallels? Is there a relationship with the artist at all when they are still alive?
KB: Because the majority of the artwork offered at auction is by artists that are no longer living, it is often impossible to have a relationship. But with contemporary art at Maynards, it is such a luxury when I am able to ask the artist directly about a piece of their work. I am always interested in a second opinion, so I am constantly in touch with professors, dealers, museum staff, consultants, conservators and artists. We are all a part of the same art industry and there is a great sense of community and support. In comparison to a gallery or a museum, the artwork at Maynards is made more attainable and approachable. Items sold at auction are sold for the fair market value (which is like wholesale), so they are often less expensive than what you would pay in a gallery. The few days prior to each auction Maynards has a Preview, when the public are invited to examine some amazing works of art,  we allow people to get closer to items than they would ever allow in a museum. As a broker between seller and buyer, I hope that our clients view me as an ally that can assist them with their collecting process.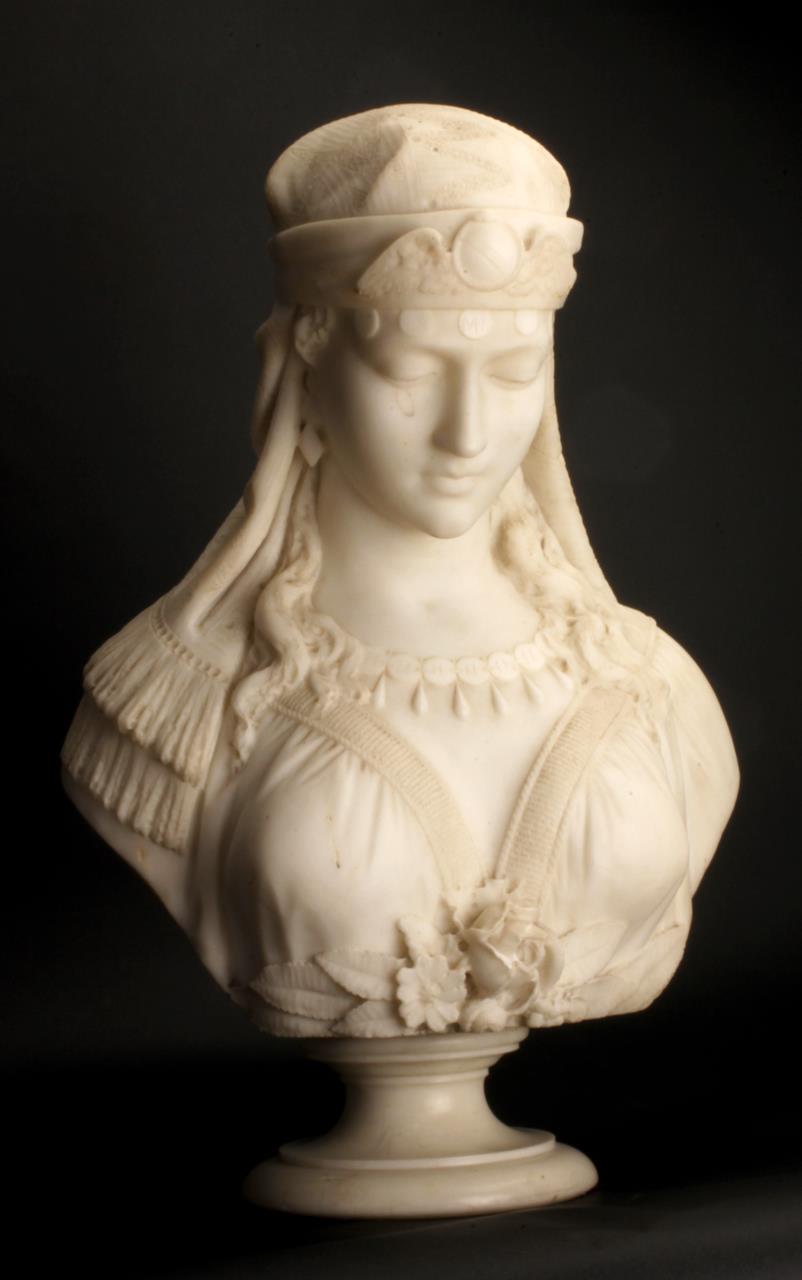 Ferdinando Vichi, (1875-1945), Arab girl, white carrara marble and green marble pedestal, signed
JS: Speaking as an ally to collectors, you showed me your list of things to watch out for when buying work and I thought it was great. Would you be able to elaborate on any of the 3 main points below?
1.      The Work:
Do you love it? (if you love it, others might in the future as well- and if they don't then you better love it for a long time)
Is it unique? (if it is a print, the edition size should be low [preferably less than 300])
Does the work fit into the artist's style?
Consider the size (extremely large pieces are harder to re-sell)
Consider the content (could the work be hung in a family home?)
Consider the condition and provenance (this is normally only an issue with secondary market-but good to always ask)
Is it "right"? (beware of fakes- mainly claiming to be by Picasso, Rembrandt, Miro, Dali, Chagall, Erte)
2.      The Artist:
Have they received grants or awards (have past recipients of these awards gone on to fame)?
Have they been nominated/or been runner up for respected awards?
Where did the artist receive training?
How old are they?
Where have they exhibited? (If the artist is dead, is there work still in demand and exhibited by major institutions?)
Who has collected their work? Institutions? Well known/respected collectors?
What sort of press/publications about the artist?
Are they still currently working as an artist?
Has the artist sold at public auction? (charity auctions are not public) If so, what are the realized prices? Have the prices realized increased over time?
What exhibitions does the artist have lined up for the future?
3.      The Gallery:
Who are the other artists on the roster?
Have other artists from the gallery gone on to become famous?
How long has the gallery been in business
Where is the gallery located? (if the answer is mall or tourist area or cruise boat – buyer beware!)
KB: There is nothing that I hate seeing more than someone paying too much for art (especially bad art); and because I do so many appraisals, I am often forced to be the bearer of this bad news.  I read somewhere that 70 percent of people make their art purchases while on vacation, which explains why the biggest art scam is at tourist traps and cruise boats. I am shocked at how many people impulsively spend thousands of dollars on overpriced art, that will likely never appreciate, after having a few glasses of champagne in international waters. People get caught up in the pomp of buying art, when really you should look at buying art as you would any other item. First and foremost you have to love the piece of art you are buying, because you may be staring at it for a very long time.
Second, make sure you are not overpaying for the artist's work (did you know auctions often offer artwork at 40% less than a commercial gallery?). At one point or another every buyer that comes to Maynards will ask me of the art they are interested in, "Is this a good investment?". Of course, I can't see into the future, but there are specific clues about an artist's career and work that can help answer their question. I compiled this list with the intension of helping inexperienced art buyers do their homework before purchasing and, hopefully, avoid overpriced or depreciating art.
Joseph Staples – www.officesuppliesincorporated.com