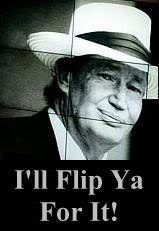 Here's a gambling story about the late great media billionaire Kerry Packer from Australia.
One casino boss remembered, "I was lucky enough back in the day to actually witness this gentleman sign several markers one night for at least 6 million while sitting in the high limit room of one of Vegas finest casinos, I'll never forget that."
Now that's not going to put the house in jeopardy but it's reported that Mr. Packer would play in the $500 to $1,000 per hand range until he was winning then up his bets to as much as $300,000 a hand in Baccarat. He was also fond of Blackjack and wasn't shy about betting millions then quitting while he was ahead. Some called him "Hit and Run Packer".
He was far more than that though, he was splash and style and lit up a room like no other when he entered and something more; he was a man of no fear. It's been reported and corroborated by many that an obnoxious oil millionaire from Texas was running his mouth flappers at the table one night and Kerry was annoyed with him. He asked the man to tone it down a bit and the man just got more abrasive, going on to say to Packer… "You know who I am partner? I'm worth $60,000,000!"
Kerry was quiet for a moment then pulled out a coin and said, "I'll flip you for it."
For more on Packer, watch this documentary.