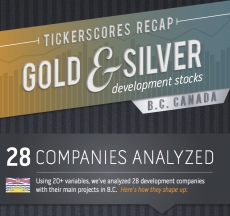 Visual Capitalist's Tickerscores, which allows investors to compare precious metals stocks head-to-head, gave 46% of BC Gold & Silver Miners in the development stage a failing grade.
Tickerscores uses 20+ variables and rates companies based on financials, management, valuation, recent performance, and project potential.
The following infographic displays the highlights for 28 BC development companies. To see the previous recap released two weeks ago on 53 BC exploration companies, click here

The above recap focuses only on British Columbia gold and silver stocks that have a NI 43-101 technical report, but are not yet producing.
Primary findings include:
More insiders are buying than selling. 36% of companies had insiders buying YTD, while 43% were holding and 21% were selling.
30% of companies have less than $300,000 in their treasury.
On average, companies spend close to 60% on General and Administrative expenses (G&A expenses)
Management scores were low. Almost 60% of scores were below 50/100. Reasons: low institutional and management ownership, low YTD insider buying, and high G&A expenses.
16 companies (57%) will run out of cash in less than 5 months and will have to re-finance.
13 companies (46%) received a failing overall grade using our in-house Tickerscores algorithm.
Conclusion: Even in tough market conditions, there are multiple BC development companies with strong cash positions, low burn rates, strong insider buying, and support from smart money. These companies are a good bet to emerge from the downturn to generate returns for shareholders.
About VC+ Tickerscores: Tickerscores allows investors to compare precious metals stocks head-to-head using proprietary research combined with data visualization. Tickerscores is 100% independent and each report contains multiple pages comparing companies using financial, management, and project categories.