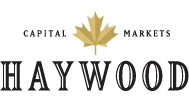 VANCOUVER, Aug. 21, 2013 /CNW/ - Rob Blanchard, President of Haywood Securities Inc., one of Canada's leading independent investment dealers, is pleased to announce that Haywood has taken a critical first step in its plans to significantly enhance the Firm's position in the energy sector.
"We have attracted a hand-picked team of accomplished energy capital markets specialists who will provide our Firm with the strength, experience and depth to elevate our capabilities in this dynamic sector," stated Blanchard.
This high-profile group includes:
Dan Tsubouchi, Head of Investment Banking
Dan is a 20-year oil and gas veteran who most recently served as Vice Chairman and Co-Head of Investment Banking at GMP Securities, where he was responsible for leading its energy team. His considerable experience as an oil and gas research analyst has earned him high-ranking on a regular basis in buy-side client surveys, and he was consistently recognized as one of the sector's leading investment bankers, both for his acumen in corporate finance and M&A.
"Dan's considerable depth of knowledge, his senior management experience and excellent reputation, were the strengths that we were looking for in a Head of Investment Banking," stated Blanchard. "We are very confident that Dan is the right person to lead our Investment Banking department and take our energy platform to the next level."
"Haywood is uniquely poised to become a major participant in the energy sector" stated Dan Tsubouchi. "I have previously worked with many of Haywood's sales & trading team. I was attracted by their commitment to build and support a top-tier energy platform in a period of changing capital markets for the sector. Haywood has a proven track record of delivering for its clients and I am excited about our ability to attract high-quality team members who are also committed to our vision."
Other senior hires include:
Jeff Reymer, Managing Director, Investment Banking, Global Energy
Jeff is a 15-year investment banking veteran and is highly experienced in the oil and gas sector.   Haywood plans to have its energy focus on both domestic energy companies and Canadian based international oil and gas companies. As Managing Director, Jeff will play a key leadership role in Haywood's energy platform especially with his proven track record in advising Canadian based international oil and gas companies.  He has served in a number of very senior positions, most recently as Managing Director, Investment Banking, Global Energy for National Bank Financial.
Darrell Bishop, Energy Research Analyst
Darrell is a Professional Engineer and brings significant oil and gas industry experience to his work as a research analyst.  Prior to joining the investment business, Darrell gained 10 years oil and gas technical experience working with CorrOcean Aberdeen, Petro-Canada East Coast and Devon Canada, that included oil and gas technical work in a range of international basins.  He most recently served as Research Analyst, International Oil and Gas E&P, for National Bank Financial.  He also holds a MBA from the University of Calgary.
Michael Dilay, Institutional Sales & Trading
Michael has been working as a trader in the energy sector since 2000, most recently as Head of Sales & Trading at Casimir Capital in Toronto. Michael, a CFA, brings key experience and success with buy-side clients in the US and UK, in addition to his key relationships with Canadian clients.
About Haywood Securities
Founded in 1981, Haywood Securities is a private, 100-percent employee owned investment dealer with more than 275 employees and Canadian offices in Vancouver, Calgary and Toronto. The Firm is a participating organization of the Toronto Stock Exchange, The TSX Venture Exchange, the Bourse de Montreal, the Canadian National Stock Exchange and a member of the Investment Industry Regulatory Organization of Canada, and the Canadian Investor Protection Fund. In addition, Haywood (USA) Securities Inc., a wholly-owned subsidiary of Haywood Securities Inc., is a broker-dealer registered to transact securities business in the United States with the Financial Industry Regulatory Authority and is a member of the Securities Industry and Financial Markets Association. Similarly, Haywood Securities (UK) Limited is a wholly-owned subsidiary with offices in London, U.K. and registered with the Financial Services Authority (FSA) to service institutional customers in the U.K. More information about Haywoodcan be found at www.haywood.com.
For further information:
Rob Blanchard
1 (604) 697-7195