Today marks the beginning of Colorado Gold Week, where companies in the precious metals space, at exploration, development and production stages, join institutional investors in Vail and then Denver Colorado for high quality conference sessions.
---

The 2013 Precious Metals Summit in Vail, Colorado, runs today through Saturday, and features the more early stage precious metals companies. This three year old show has gained a reputation as the best conference for junior miners for its high quality audience. Joe Wickwire of Fidelity Investments and Diana Walters of Liberty Metals and Mining are among keynotes worth watching, you can skip Peter Schiff.
---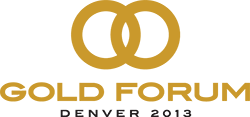 The 2013 Denver Gold Forum then begins on Sunday through Wednesday at the Hyatt Regency Hotel in Downtown Denver, Colorado. With the BMO Conference in Miami and the Melee that is the PDAC, Denver Gold is one of the most important precious metals shows for institutional investors each year. The who's who of the gold business will be giving presentations, many of which will be available online.
---
CEO.CA has no reps at either conference but wishes best of luck to friends attending and exhibiting. We look forward to Kitco's coverage and watching webcasts online.