The Lundin Group's Africa Oil (AOI:TSXV) announced this morning that it has discovered oil on its Block 13T in Kenya, which indicate a potential pay zone of 60-100m.  This further derisks and represents the fourth consecutive significant oil find in the East African Rift Basin.  The company holds a 50% working interest with operator Tullow Oil Kenya holding the remaining interest.
Africa Oil chief executive officer, Keith Hill, commented: "We are thrilled with the 100-per-cent success rate of the drilling program to date in northern Kenya, and, with 10 additional leads and prospects in this basin, we can expect additional discoveries in the immediate future. We are equally excited about the basin opening wells being drilled in two new areas and the pace of exploration ahead, with six active rigs operating full time. This discovery gives us further incentive to aggressively push forward plans for development studies of this world-class project in conjunction with our partners and the government of Kenya."
Here's today's news release: Africa Oil Discovers Oil at Ekales Prospect in Kenya
The company also provided an update on four of its other wells in Kenya and Ethiopia.  There other well on Block 13T, Agete-1, was spudded on September 16, 2013.  The company says it estimates roughly 276 million barrels of recoverable oil with a 54% chance of success.  This well is located on what the company calls "the string of pearls" which is the basin-bounding fault trend.  The company also recently spudded the Tutule-1 well in the South Omo Block in Ethiopia.  AOI expects to drill the Bahasi-1 well in Kenya's Block 9 prospect in the next few days which is on trend with the Paipai discovery.  This block is operated on a 50% working-interest by AOI with Marathon Oil owning the remaining interest.  Finally, AOI and operator, New African Global Energy, expects to spud the El Kuran well in October which is a highly prospective target that was previously drilled by Tenneco in the early 70's.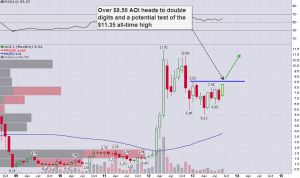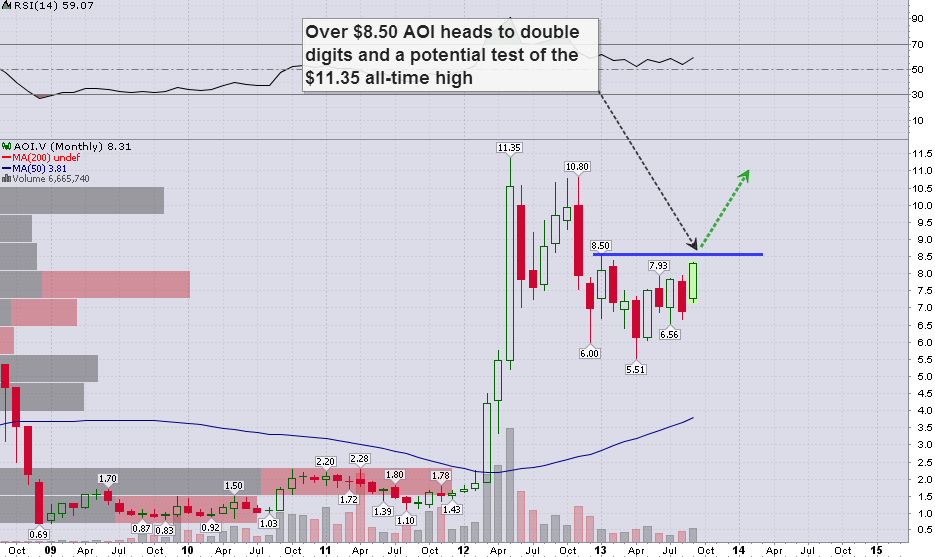 Please also see Monday's piece by the CEO Technician who says, if the stock can break through resistance at $8.50, AOI looks strong.  If it does, the Technician sees AOI testing new highs.  It looks like a breakout through resistance could happen this morning.
Monday's piece here: Lundin Group's Africa Oil Could Test All-Time Highs