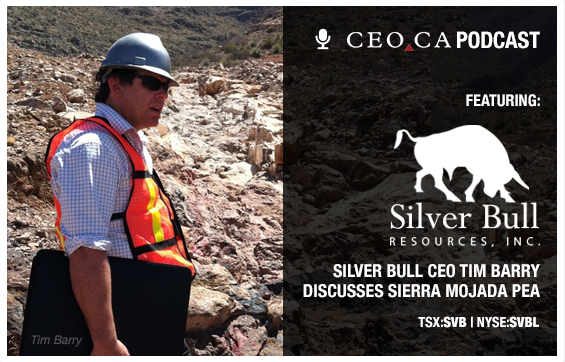 [audio:http://blog.ceo.ca/wp-content/uploads/2013/10/Silver-Bull-CEO-Tim-Barry-Discusses-Sierra-Mojada-PEA-Oct-3-2013-With-Tommy-Humphreys-21-min-audio.mp3]
Silver Bull Resources (NYSE:SVBL, TSX:SVB) reached an important milestone last week: it released the Preliminary Economic Assessment (PEA) for their 100% owned Sierra Mojada silver-zinc project in Coahuila, Mexico. On Thursday, I discussed the report with Silver Bull CEO Tim Barry. The full audio of our conversation is available above and below; but first, the backstory on Silver Bull.
Restructuring
In 2009, a cash-strapped NYSE listed Metalline Mining held the Sierra Mojada project. Metalline management had lost shareholders' confidence, so it merged with Vancouver-based Dome Ventures. Brian Edgar, 63, a mining lawyer with close ties to the Lundin Group, was running Dome (Mr. Edgar was Lead Director of Red Back Mining when it sold to Kinross in 2010 for $9 billion). With Tim Barry, 37, exploration geologist, installed as CEO, and Edgar himself as executive chairman, the combined company renamed itself Silver Bull Resources, and partnered with JDS Engineering to re-establish and grow Sierra Mojada's resource. Along the way, Silver Bull attracted the US's largest silver miner, Couer d'Alene Mines Corp., as a major shareholder.
Silver Bull's latest resource statement factors Sierra Mojada's silver endowment at more than 163.6 million ounces – all in the Indicated category. This is at an average grade of 71.4 grams per tonne, using a 25-gram-per-metric ton cutoff. The silver zone is near-surface and contains some zinc, the statement reported. Directly beneath the silver zone is a large zinc deposit of more than 2.2 billion pounds. Sierra Mojada also contains lead and copper, and it is known as a Carbonate Replacement Deposit (CRD).
PEA
Silver Bull's PEA will brief investors and potential suitors on the extent of the project's economics. CEO Tim Barry commented, "The key points of the PEA are an after tax NPV of $463 million. The rate of return is 23.1%, CapEx is $297 million, which includes a 15% contingency, with a 2.9-year payback," Barry explained on our phone call. "It's an 18-year mine life, which will produce on average 5.5 million ounces of silver per year, with a very high-quality zinc concentrate of about 55,000 tonnes per year, which equates to about 65 million pounds. Cash costs per ounce, net of byproduct, are approximately $6.58 per ounce of silver produced."
Silver Bull factored metals prices at $23.50 for silver and $.95 zinc for their PEA, closely following the Energy & Metals Consensus Forecast, but maintaining figures slightly more conservative than consensus.
"The silver price was $24 just two weeks ago," Barry added. "Sierra Mojada's not getting built tomorrow, and what we're trying to do is forecast reasonable metal prices. When this does go into production, we do expect zinc and silver to be higher."
Silver Bull's name is a pretty accurate summation of its outlook for silver prices. Still, Mr. Barry painted an especially compelling picture for zinc, noting that several of the industry's largest zinc mines will reach the end of their lives over the next two years. Smaller, inferior projects are scheduled to replace them. "When you're losing three of your biggest mines, and there haven't been any major zinc discoveries in a very long time, it doesn't bode well for supply."
"We recognize that people need to see how robust the project is at lower prices, and even at $16 silver, this project still makes money."
Our conversation turned to metallurgy. The company says a process called SART (Sulphidation, Acidification, Reduction and Thickening) — commonly used in oxide copper-gold projects — will allow for 75% silver recovery and 40-50% zinc recovery at Sierra Mojada. SART also regenerates 95% of the cyanide used in the metallurgical process, which will save the company considerably during production, as the chemical would otherwise be an ongoing consumable cost. SART is used at Newmont's Yanacocha mine, Kinross's Maricunga mine and others, but isn't well-known to investors. "It's a good part of my job to get out there and preach the virtues of the SART process," Barry told me. [For more on SART, listen to the full audio recording.]
"Top Quartile"
Sierra Mojada falls in the top quartile for cash costs per ounce and production volume, according to Barry. "[Silver producers] are going to have to replace [mined] ounces, and that's where a project like Sierra Mojada has tremendous value — any company wants to buy a big asset and there are not many out there."
Looking forward, Barry made clear his focus will be divided between permitting, feasibility and getting the story out to investors and potential acquirers. News flow will be focused on key permitting milestones, like their Environmental Impact Assessment ratification, of which Barry says they're well under way. The company is also working to secure all surface rights to the project, and aims to complete a Pre-Feasibility Study in 2014.
The company has $6.5 million in cash, which, at the current burn rate (~$180,000 per month), will last into 2015. [Ed. note: Silver Bull was recently recognized in an article published by Sprott and others for prudent management of its treasury].
"I'm actually an exploration geologist by training and it's not lost on me the wider exploration upside of this area. We will have a low-level program, mainly with leather on the ground. … I'd love nothing more than to have a Feasibility on Sierra Mojada under way and reporting the news of that and put a hole into a whole new area that's never been drilled before. Our Palamos Negros target 9km up-strike from the deposit, and sitting in the same structure, has a lot of potential for the company."
Silver Bull Resources Inc. (TSX:SVB)
Shares Issued 159,072,657
Last Close 10/07/2013 $0.37
Company Presentation Link
[audio:http://blog.ceo.ca/wp-content/uploads/2013/10/Silver-Bull-CEO-Tim-Barry-Discusses-Sierra-Mojada-PEA-Oct-3-2013-With-Tommy-Humphreys-21-min-audio.mp3]


Disclaimer: Please read Silver Bull Resources Inc.'s Cautionary Statement Regarding Forward-Looking Statements carefully. All statements in this report, other than statements of historical fact should be considered forward-looking statements. These statements relate to future events or future performance. Forward-looking statements are often, but not always identified by the use of words such as "seek", "anticipate", "plan", "continue", "estimate", "expect", "may", "will", "project", "predict", "potential", "targeting", "intend", "could", "might", "should", "believe" and similar expressions. Much of this report is comprised of statements of projection. These statements involve known and unknown risks, uncertainties and other factors that may cause actual results or events to differ materially from those anticipated in such forward-looking statements. Risks and uncertainties respecting mineral exploration companies are generally disclosed in the annual financial or other filing documents of those and similar companies as filed with the relevant securities commissions, and should be reviewed by any reader of this article. In addition, with respect to any particular company, a number of risks relate to any statement of projection or forward statement.
Nothing in this article should be construed as a solicitation to buy or sell any securities mentioned anywhere in this newsletter (specifically in regard to Silver Bull Resources Inc). This article is intended for informational and entertainment purposes only! The author of this article and its publishers bear no liability for losses and/or damages arising from the use of this article.
We have been shareholders of Silver Bull Resources for over two years and know management. You must recognize the inherent conflict of interest involved that may influence our perspective on Silver Bull Resources. This is why we stress that you conduct extensive due diligence as well as seek the advice of your financial advisor and a registered broker-dealer before investing in any securities.
Be advised, Pacific Website Company Inc., CEO.CA and its employees are not a registered broker-dealer or financial advisor. Before investing in any securities, you should consult with your financial advisor and a registered broker-dealer.
Never, ever, make an investment based solely on what you read in an online newsletter, including CEO.CA's online newsletter, or Internet bulletin board, especially if the investment involves a small, thinly-traded company that isn't well known.
Pacific Website Company Inc., owner of CEO.CA, its officers, directors, employees, and consultants shall not be liable for any damages, losses, or costs of any kind or type arising out of or in any way connected with the use of its products or services, including this article. Pacific Website Company Inc., owner of CEO.CA, its employees, consultants and affiliates are not responsible for any claims made by any of the mentioned companies or third party writers. You should independently investigate and fully understand all risks before investing. We want to remind you again that CEO.CA is often paid editorial fees for its writing and the dissemination of material. The clients represented by CEO.CA are typically development-stage companies that pose a much higher risk to investors. When investing in speculative stocks of this nature, it is possible to lose your entire investment over time. Please recognize that we are extremely biased when it comes to Silver Bull Resources.
Cautionary Note Concerning Estimates of Inferred Resources:
This report and supportive documents used in the research process of this report use the term "Inferred Resources". U.S. investors are advised that while this term is recognized and required by Canadian regulations, the Securities and Exchange Commission does not recognize it. "Inferred Resources" have a great amount of uncertainty as to their existence, and great uncertainty as to their economic and legal feasibility. It cannot be assumed that all or any part of an Inferred Resource will ever be upgraded to a higher category. Under Canadian rules, estimates of "Inferred Resources" may not form the basis of feasibility or other economic studies. U.S. investors are also cautioned not to assume that all or any part of an "Inferred Mineral Resource" exists, or is economically or legally mineable.
Mineral resources which are not mineral reserves do not have demonstrated economic viability. The estimate of mineral resources may be materially affected by environmental, permitting, legal, title, taxation, socio-political, marketing, or other relevant issues.
Pacific Website Company Inc. and CEO.CA (including its employees and consultants) are not chartered business valuators; the methods used by business valuators often cannot justify any trading price for most junior stock exchange listed companies.
Any decision to purchase or sell as a result of the opinions expressed in this report OR ON CEO.CA will be the full responsibility of the person authorizing such transaction, and should only be made after such person has consulted a registered financial advisor and conducted thorough due diligence. Information in this report has been obtained from sources considered to be reliable, but we do not guarantee that it is accurate or complete. Our views and opinions regarding the companies we feature on CEO.CA and in this newsletter are our own views and are based on information that we have received, which we assumed to be reliable. We do not guarantee that any of the companies mentioned in this newsletter (specifically Silver Bull Resources) or on CEO.CA will perform as we expect, and any comparisons we have made to other companies may not be valid or come into effect.
Pacific Website Company Inc. is a distributor (and not a publisher) of content supplied by third parties and subscribers. Accordingly, Pacific Website Company Inc. has no more editorial control over such content than does a public library, bookstore, or newsstand. Any opinions, advice, statements, services, offers, or other information or content expressed or made available by third parties, including information providers, Subscribers or any other user of The Pacific Website Company Inc. Network of Sites, are those of the respective author(s) or distributor(s) and not of Pacific Website Company Inc. Neither Pacific Website Company Inc. nor any third-party provider of information guarantees the accuracy, completeness, or usefulness of any content, nor its fitness for any particular purpose.
Pacific Website Company Inc, owner of CEO.CA, does not undertake any obligation to publicly update or revise any statements made in this report.