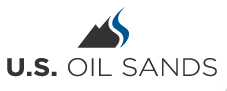 US Oil Sands (USO:TSXV) has closed its previously announced, oversubscribed $81 million financing and has added a changed lineup of all-star energy entrepreneurs to its board of directors.  USO raised the money from three main strategic investors, Blue Pacific Investments, Anchorage Capital Group and Spitfire Ventures.  Blue Pacific nominated Serafino Iacono (highly successful Colombian resource entrepreneur behind Pacific Rubiales Energy) and Ronald Pantin (CEO of Pacific Rubiales).  From Anchorage Capital, Stephen Lehner (head of Energy investments at Anchorage) is incoming to the board and from Spitfire Alfred Holcomb has been appointed.
US energy billionaire, Rod Lewis who was previously announced as coming on to the board will act as an 'observer to the board of directors' as will Kevin Ulrich.  Frank Giustra who was also going to come on the board, will no longer do so do to too many other commitments.  These three will remain large investors in USO, through their stakes in the strategic investment vehicles who financed the company.
USO plans to use the money to bring the first phase of commercial development of their PR Springs project in Utah's Uinta basin which contains an estimated 184.3 million barrels of bitumen.  Phase 1 is expected to produce 2,000 barrels of oil per day.  The company has a patented method of developing oil sand bitumen using bio-solvent technologies which are environmentally sound and capital efficient.  The company has left the door open to M&A as well stating: "proceeds raised in excess of those required to finance the PR Spring project will allow the company to immediately initiate corporate development activities that may include the acquisition of or participation in other oil sands assets located outside the state of Utah."
Since announcing the financing (which was announced at a 50% premium to the market), the stock is up roughly 100%.
Read: Sleeper US Oil Sands Just Raised $80 Million From Some of Energy's Best Entrepreneurs