Niocorp Developments Ltd. (TSXV:NB), a junior mining company developing the Elk Creek Niobium project in Nebraska, has closed a 6,186,612 share private placement at 15 cents, raising $927,991 US for the company. CEO Mark Smith, who was formerly CEO at Molycorp (NYSE:MCP), subscribed for 3.4 million shares or $510,000 US. Proceeds will be used to conduct further exploration and development at Elk Creek and for general working capital.
The $927,991 financing falls short of the $10 million the company intended to raise, according to a September 23, 2013 news release.
A representative from Niocorp confirmed they are still seeking the additional $9 million, and expect to close the balance of the financing in the near term. CEO Mark Smith will be hosting an investors' field trip later this week in Nebraska. We have been unable to secure an interview with Mr. Smith yet, but remain keen to do so.
Related: Controversial Ex Molycorp Boss Smith Takes The Reigns At Micro-Cap Niobium Developer Niocorp
Shares in the junior Niobium company have been on the rise since Mr. Smith's appointment to the CEO role in September, 2013, but remain a far cry from their early 2011 highs.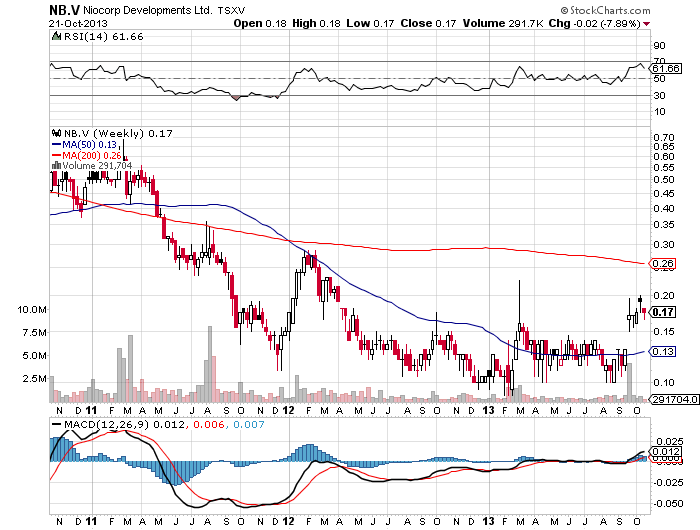 This is NOT advice.