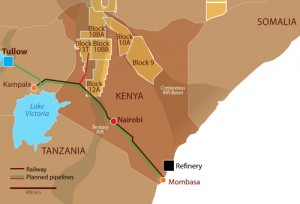 Africa Oil (AOI:TSXV), the east African oil explorer and Lundin Group Company, has found a fifth consecutive oil discovery in Kenya.  The Agete-1 exploration well in block 13T (50% non-operated working interest, Tullow Oil is 50% operator), has discovered and sampled movable oil with an estimated 100 metres of net oil pay in good-quality sandstone reservoirs. The company has been working on a major exploration program in northern Kenya with the Agete-1 well being part of it.  The company is planning many more wells in the area, and this latest discovery derisks those.  Agete-1 is on trend with the Twiga South, Ekales and Ngamia oil discoveries.
Agete-1 was drilled to a total depth of 1,930m and will be suspended for future flow testing.  Then the Sakson PR5 drilling rig will move to the Ewoi-1 well on the eastern part of the basin which is intended to target a rift flank prospect which management believes will be similar to the recent Etuko discovery.
Keith Hill, President/CEO of Africa Oil, commented: "The highly prolific nature of this basin is once again proven by this significant discovery. We would expect to see a high rate of success on all exploration wells in this basin based on results to date. We will have at least six rigs full-time across Kenya and Ethiopia for the foreseeable future and, with our recent fundraising, are well placed to not only drill and appraise this basin, but to drill basin opening wells in the most prospective new areas in the coming 18 months."
The company is coming off a $450 million financing (priced at $8.25 per share) which will be used to continue its aggressive exploration campaign.  They expect the Amosing-1 well on Block 10BB to start drilling by the end of November and the Etuko-1 well to be tested this month as well.  The Ekales-1 well test is scheduled for early December followed by the results of the currently drilling Bahasi-1 well on Block 9.  AOI is set for a news filled end of the year with more discoveries likely on the horizon.
Here's the 5-Year Chart:
Read: Africa Oil Announces Fifth Consecutive Major Oil Discovery in Kenya