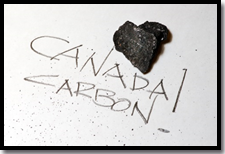 Canada Carbon (TSX-V: CCB), a Vancouver-based mineral exploration and acquisition firm operating in Ontario and Quebec, released trenching and drilling assay results from their past producing Miller graphite project located in Quebec.
According to the news release, results showed that graphite mineralization extended from the surface to a depth of 39 metres. There were untested deeper extensions revealed by core samples that will be scheduled for future drilling campaigns.
There were twelve holes drilled for a total of 595.5 metres at Miller with channel samples being sent to both Actlabs and SGS Canada to determine graphite carbon composition. Among the results, VN2 showed 32.45% Cg in 2 metres of drilling and 28.2% Cg in 1.2 metres of drilling.
Company CEO and Director R. Bruce Duncan, remarked, "We are very pleased the drilling and channel sampling have confirmed that the very high-grade Miller graphite mineralization continues at depth."
Mr. Duncan continued, "We have multiple intersections of graphite in multiple holes, equating to vertical depths of mineralization to at least 39.3 metres, and our impending drill campaign will further extend the down-dip and strike extension of these high-grade intervals."
Then concluded, "The campaign will also test our three high priority targets defined by airborne EM, each of which exhibits geophysical attributes like those over the VN2 area."
News Release: Canada Carbon Intersects 32.45% Cg over two Metres in Drilling and 28.2% Cg over 1.3 Metres in Channel Samples at Miller Project