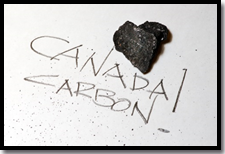 Bruce Duncan's Canada Carbon (TSX-V: CCB), which is advancing the Miller graphite project in Quebec, announced the results from an additional chemical characterization of graphite concentrate from the company's wholly-owned Miller Graphite property.
The characterization was carried out to finely measure purity beyond the capability of current conventional infrared techniques. The submitted Miller graphite concentrate was also subjected to rapid thermal treatment to see if it would respond to this upgrade process.
According to the news release, the additional characterization and rapid thermal treatment were important steps as very pure graphite sells at a much higher rate than less pure material and concentrate impurities determine which high-technology applications are suitable.
The sample passed through a two-stage leeching process by SGS Canada before it was sent off to Evans Analytical Group of Liverpool, New York for a full chemical analysis. Before heat treatment, elemental impurities hovered at 246 ppm by weight and after the heat treatment was applied, 90% of the contaminants were removed leaving a figure of 24 ppm and a purity level of 99.9978%.
This purity level exceeds the threshold for nuclear grade graphite and according to the Boron Equivalent Content ("BEC") measurement, Miller's purified graphite concentrate is rated at 0.966 ppm, well below BEC's minimum standard of 2 ppm.
Dr. Karol Putyera, Vice President for GDMS services at Evans Analytical Group, remarked, "The high temperature heat treatment experiment clearly points towards unique physical characteristics of this Miller vein material. In all my years of analyzing graphite this behaviour is unprecedented."
CEO and Director of Canada Carbon, R. Bruce Duncan also commented on the achievement, "The Miller vein graphite continues to exceed our most optimistic expectations with respect to not only the high purity achievable for it, but also the ease with which those results are obtained. Here, we report 90% loss of contaminants in just 10 minutes of thermal treatment."
Duncan was quick to add however, "Despite the great success that we have achieved so far in upgrading our Miller graphite, these results are still preliminary. The Company is planning a systematic laboratory investigation to determine an optimized metallurgical process for this graphite, which we believe could provide results exceeding those achieved via these initial investigations."
He then concluded, "The Company will also submit samples of the Miller graphite for characterization tests, to further investigate some of its unique physical properties. Those results will be reported as soon as they are received."
News Release: Canada Carbon Achieves 99.9978% Purity by Rapid Thermal Upgrading of Miller Vein Graphite