At the end of last year we highlighted "3 Stocks for 2014", as it has turned out we have been quite lucky in the new year with these picks: CSIQ +43.5%, CCJ +6.7%, ABX +3.3%. While CSIQ has rocketed into the stratosphere, CCJ and ABX are just getting started.
We are particularly interested in CCJ which has seen thick buying during the past 3 days and has broken out from a long term base:
Click to enlarge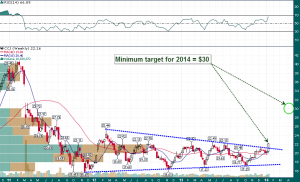 While Cameco (NYSE:CCJ, TSX:CCO) has become moderately overbought on shorter time frames, this is a stock which is displaying all the signs of just getting started on a breakout from a massive long-term base (heavy institutional accumulation, breakout above long-term downtrend line, MACD bull cross, etc.) – $30 is a modest target for 2014.
Recently we identified another attractive chart setup in the uranium space, FCU.V: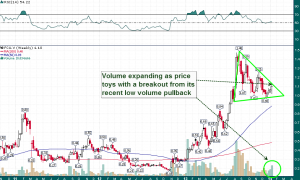 FCU was among the hottest of 2013 after it and JV partner Alpha Minerals discovered high grade uranium in size at shallow depths in Northern Saskatchewan, Canada.
Experts in the industry say Fission's PLS project is the richest uranium deposit in the world in the hands of a junior company, and say that it's better than it's last comp, Hathor Exploration, which sold for $650 million in late 2011. Fission's market cap today is $340 million.
As an exploration stage company in the uranium space Fission is clearly much riskier than Cameco, however, it may have more upside.