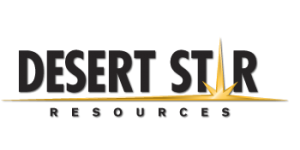 Desert Star Resources (TSXV:DSR) is a junior exploration company being proactive in this market.
Last year they picked up six exploration projects in the U.S., each with big potential.
Of particular note are their Red Top, Copper King and Copper Springs projects in Arizona, as well as their Oro project in New Mexico.
A map of their Arizona projects shows scores of copper mines operating or soon to be operating in the area by majors like BHP Billiton, Rio Tinto, Capstone, and KGHM. This is among the most productive copper mining regions in the world and $5 million market cap Desert Star has a hold on some of its strongest exploration targets.
Here's a Google Earth flyover video from the company:
Earlier today Desert Star closed a $1.051 million financing of $0.18 units with a full $0.25 warrant (exp. July 28, 2015) for general corporate purposes.
CEO Vince Sorace tells me the goal of the company is to find strategic investors, such as larger mining companies, to share the costs associated with advancing some of their projects.
Sorace and his team have the substance to pull it off. In 2011, Sorace was CEO of Providence Resources where he helped that company raise $4 million in exploration capital from Teck Resources at $4 per share. The exploration thesis for Providence didn't pan out however Sorace learned what it takes to do a deal with a major miner.
Desert Star's exploration team is also compelling. Sorace has been able to attract Dr. Al Wainwright, PhD PGeo, as chief geologist. Dr. Wainwright will be honoured at the AMEBC Roundup conference tomorrow night, sharing the H. H. "Spud" Huestis Award for excellence in prospecting and mineral exploration with his former colleagues at Kaminak Gold, for their role in the discovery of the 3.2 million ounce Coffee gold deposit in the Yukon. Vancouver geologist Dan McNeil is also extensively involved with Desert Star's project acquisitions and exploration strategy. Both Wainwright and McNeil have several years experience working for multiple major mining companies.
Desert Star has 29,091,744 shares outstanding, plus another 21,559,182 warrants and 1,852,500 options at exercise prices ranging from $0.15 to $0.80. The company's shares last traded at $0.18, giving DSR a market cap of approximately $5.24 million.
As the mining industry enters its fourth year of a downturn, very few companies are actually doing any exploration; Desert Star is vying to be one of them, and boasts an impressive portfolio of exploration targets which may just attract a major miner to roll the dice.
Read the company's corporate presentation and keep an eye on DSR in 2014.
Disclaimer: Author has a financial interest in Desert Star Resources and the company is an advertiser, therefore the article is not to be considered unbiased and fully independent. Please read Desert Star Resources Ltd.'s Cautionary Statement Regarding Forward-Looking Statements's carefully. All statements in this report, other than statements of historical fact should be considered forward-looking statements. These statements relate to future events or future performance. Forward-looking statements are often, but not always identified by the use of words such as "seek", "anticipate", "plan", "continue", "estimate", "expect", "may", "will", "project", "predict", "potential", "targeting", "intend", "could", "might", "should", "believe" and similar expressions. Much of this report is comprised of statements of projection. These statements involve known and unknown risks, uncertainties and other factors that may cause actual results or events to differ materially from those anticipated in such forward-looking statements. Risks and uncertainties respecting mineral exploration companies are generally disclosed in the annual financial or other filing documents of those and similar companies as filed with the relevant securities commissions, and should be reviewed by any reader of this article. In addition, with respect to any particular company, a number of risks relate to any statement of projection or forward statement.
Nothing in this article should be construed as a solicitation to buy or sell any securities mentioned anywhere in this newsletter (specifically in regard to Desert Star Resources Ltd.). This article is intended for informational and entertainment purposes only! The author of this article and its publishers bear no liability for losses and/or damages arising from the use of this article.
Be advised, Pacific Website Company Inc., CEO.CA and its employees are not a registered broker-dealer or financial advisor. Before investing in any securities, you should consult with your financial advisor and a registered broker-dealer.
Never, ever, make an investment based solely on what you read in an online newsletter, including CEO.CA's online newsletter, or Internet bulletin board, especially if the investment involves a small, thinly-traded company that isn't well known.
Pacific Website Company Inc., owner of CEO.CA, its officers, directors, employees, and consultants shall not be liable for any damages, losses, or costs of any kind or type arising out of or in any way connected with the use of its products or services, including this article. Pacific Website Company Inc., owner of CEO.CA, its employees, consultants and affiliates are not responsible for any claims made by any of the mentioned companies or third party writers. You should independently investigate and fully understand all risks before investing. We want to remind you again that CEO.CA is often paid editorial fees for its writing and the dissemination of material. The clients represented by CEO.CA are typically development-stage companies that pose a much higher risk to investors. When investing in speculative stocks of this nature, it is possible to lose your entire investment over time. Please recognize that we are extremely biased when it comes to Desert Star Resources Ltd.
Pacific Website Company Inc. and CEO.CA (including its employees and consultants) are not chartered business valuators; the methods used by business valuators often cannot justify any trading price for most junior stock exchange listed companies.
Any decision to purchase or sell as a result of the opinions expressed in this report OR ON CEO.CA will be the full responsibility of the person authorizing such transaction, and should only be made after such person has consulted a registered financial advisor and conducted thorough due diligence. Information in this report has been obtained from sources considered to be reliable, but we do not guarantee that it is accurate or complete. Our views and opinions regarding the companies we feature onCEO.CA and in this newsletter are our own views and are based on information that we have received, which we assumed to be reliable. We do not guarantee that any of the companies mentioned in this newsletter (specifically Desert Star Resources Ltd.) or on CEO.CA will perform as we expect, and any comparisons we have made to other companies may not be valid or come into effect.
Pacific Website Company Inc. is a distributor (and not a publisher) of content supplied by third parties and subscribers. Accordingly, Pacific Website Company Inc. has no more editorial control over such content than does a public library, bookstore, or newsstand. Any opinions, advice, statements, services, offers, or other information or content expressed or made available by third parties, including information providers, Subscribers or any other user of The Pacific Website Company Inc. Network of Sites, are those of the respective author(s) or distributor(s) and not of Pacific Website Company Inc. Neither Pacific Website Company Inc. nor any third-party provider of information guarantees the accuracy, completeness, or usefulness of any content, nor its fitness for any particular purpose.
Pacific Website Company Inc, owner of CEO.CA, does not undertake any obligation to publicly update or revise any statements made in this report.
The information contained in this content is not an offer to buy or sell securities. Do not base any investment decision upon any materials found in this content. We are not registered as a securities broker-dealer or an investment advisor either within any securities regulatory authority. We are neither licensed nor qualified to provide investment advice. The information contained in this content is for informational and educational purposes only and is not intended to be used as a complete source of information on any particular company. Neither the information contained in this content, nor in any other place, is provided to any particular individual with a view toward their individual circumstances and nothing in this content should be construed as investment, business, or other professional advice. We are committed to providing factual information on the companies that are profiled. However, we do not provide any assurance as to the accuracy or completeness of the information provided, including information regarding a profiled company's plans or ability to effect any planned or proposed actions. We have no first-hand knowledge of any profiled company's operations and therefore cannot comment on their capabilities, intent, resources, nor experience and we make no attempt to do so.
Individuals should assume that all information contained in this content is not trustworthy unless verified by their own independent research. Information contained in this content will contain "forward looking statements." These forward looking statements are subject to a number of known and unknown risks and uncertainties outside of our control that could cause actual operations or results to differ materially from those anticipated. Factors that could affect performance include, but are not limited to, those factors that are discussed in each profiled company's most recent reports or registration statements filed with the appropriate regulators. You should consider these factors in evaluating the forward looking statements and not place undue reliance upon such statements. To the fullest extent of the law, we will not be liable to any person or entity for the quality, accuracy, completeness, reliability, or timeliness of the information provided in this content, or for any direct, indirect, consequential, incidental, special or punitive damages that may arise out of the use of information we provide to any person or entity (including, but not limited to, lost profits, loss opportunities, trading losses, and damages that may result from any inaccuracy or incompleteness of this information). Any individual who chooses to invest in any securities should do so with caution. Investing in securities is speculative and carries a high degree of risk; you may lose some or all of the money that is invested. Always research your own investments and consult with a registered investment adviser or licensed stock broker before investing. We will not be responsible for the success or failure of any individual or entity which implements information received from this content.
Learn how to protect yourself and become a more informed investor at www.investright.org