Nearly one month into 2014 we have decided to separate the wheat from the chaff and identify the 5 most promising charts in the junior space:
 Click to enlarge
Alderon Iron Ore Corp. (ADV.TO)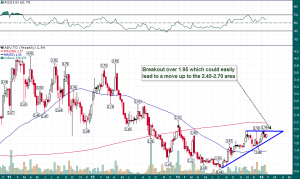 Alderon, with its partner Hebei Iron and Steel, are set to move its Kami iron ore project in Quebec's Labrador Trough into production by 2016 with minimal share dilution.
Endeavour Mining Corp. (EDV.TO)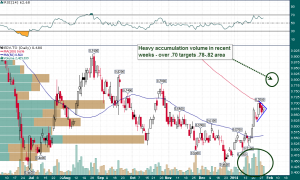 Endeavour's four West African gold mines are set to produce 400,000 ounces in 2014 with cash costs under $1000 per ounce. This team has executed flawlessly and assuming they get out in front of the market in 2014, should be rewarded for it. * Highly levered to the gold price.
Fission Uranium Corp. (FCU.V)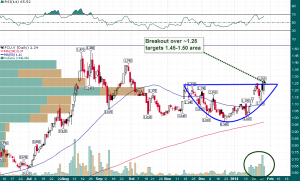 Fission's PLS uranium deposit is extremely rich, shallow and within ear shot of many of the world's largest uranium mines, in Canada's Athabasca Basin. Look for Fission to continue delineating its tremendous deposit or to be taken out by a rival in short order.
Roxgold, Inc. (ROG.V)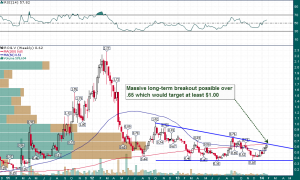 Roxgold's 55-Zone deposit in Burkina Faso is considered to be an easy to mine gold deposit profitable at today's gold prices in one of the world's best mining jurisdictions.
Wellgreen Platinum Ltd. (WG.V)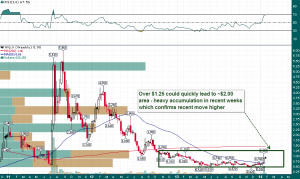 Wellgreen CEO Greg Johnson is sitting on the richest platinum deposit outside of South Africa in a market that demands a diversity of supply. Plus, he's a great storyteller and very visible in the marketplace. When junior mining comes back in vogue you may need a telescope to see how high this stock goes.
Warning: Junior mining stocks are extremely risky speculations, and not to be considered investments. These are opinions and NOT investment or professional advice of any kind. All facts to be verified by the reader. Author may trade stocks mentioned in this post. Always do your own due diligence. Thank you.