We appear to be approaching a unique global currency mess. Yesterday evening's Turkish rate hike reeked of desperation and triggered a powerful pop in thin futures markets: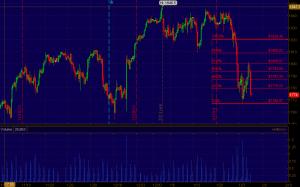 The rally was short lived as we have seen nothing but a deluge of selling in equity futures this morning. Meanwhile, there is a flight to 'quality' in the form of US Treasuries and gold.
Macro Man highlighted why in fact the Turkish rate hike is likely to only end up further exacerbating the Turkish Lira's woes: http://macro-man.blogspot.com/2014/01/turkey-das-boot.html
We also have the Russian Ruble under heavy pressure this morning, as it makes record lows vs. a basket of global currencies. Anyone remember August 2008 when global markets began a downward spiral just as the Beijing Olympics kicked off? Sochi 2014 is starting to feel like déjà vu all over again….
A further Fed taper at 2pm this afternoon removes any remaining potential 'cover fire' for global risk assets. Meanwhile, a Fed backpedal from tapering would be a tacit admission that it is a slave to the whims of global markets. From my perch gold is likely to be a winner in either scenario: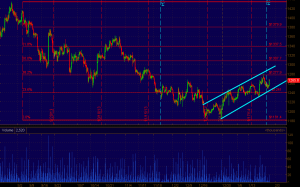 Over $1280 targets the channel top near $1292 followed by the 50% retracement at $1308 – strong support continues to exist near $1250