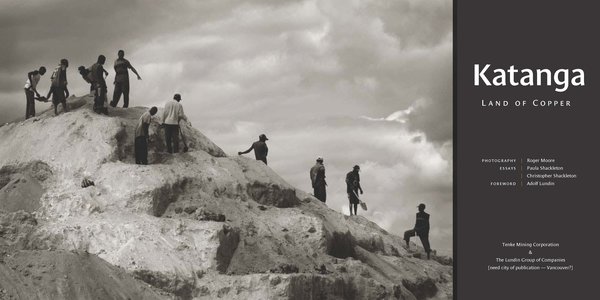 By 1994, it was emerging that Alumbrera, our huge copper and gold project in Argentina, was shaping up to become a very large deposit. With the impending sale of our interests to a major mining company, I began to ponder our next venture.
I asked John C. Thornton, noted geologist from Tucson, Arizona, where the largest undeveloped copper ore deposit in the world could be found.
"Tenke Fungurume" was his immediate response. So began our next quest.
It did not take long to discover that the property was owned by Gécamines, the state-owned mining entity for the Democratic Republic of the Congo (DRC). Over the ensuing two to three years, I met with the country's leaders-Mobutu and Papa Kabila. From there, our group selected a team of talented professionals gleaned from within the Katanga Province of the DRC, Canada, and Belgium to negotiate one of the first major foreign partnerships for a substantial mineral concession in the history of an independent Congo. With this historic agreement, a new partnership with Gécamines, and eventually the additional partnership of Phelps Dodge emerged.
I believe that the Tenke Fungurume project has helped to set the stage for renewed interest and optimism in the region. Ties with the international community are forging ahead. But it is the steady strides of the Congolese people, who are the driving force behind democratic self-government, the new constitution, and a strong new Mining Code, that have signalled to the world that the DRC is open for business.
Katanga: land of Copper was commissioned to introduce the reader to the history, beauty, and unique economic potential of this region. As you leaf through the pages and read the story, you may be interested to see Katanga and the DRC factoring so prominently in the pivotal events of the 19th and 20th centuries. As you view the photographs, you will find stunning landscapes, raw mineral resources spilling from the ground, and the faces of a proud people. Yes, there are still many challenges to overcome, but with the determination of the Congolese people, Katanga's special geologic endowment, and the efforts of responsible developers in Katanga's mining sector, the region will prosper once again.
Nelson Mandela, a prophet of the pan-African movement, stated at the end of his biography, "After climbing a great hill, one only finds that there are many more hills to climb." In the Lundin family, I have always endeavoured to impress upon my children, grandchildren, and the leaders of our various companies the importance of being fearless mountain climbers.
Special thanks to William T. Rand, Emmanuel De Cannart d'Hamale, Dirk Vanhooymissen, Paul Conibear, and Lukas Lundin for their contributions to the Tenke Fungurume project.
Please join us in celebrating Katanga: Land of Copper.
To paraphrase Cecil Rhode's quotation,
So much to do, so little time
Adolf Lundin
August 28, 2006