NCQ:TSX | 53,527,862 Shares O/S (basic) | $80,827,000 Market Cap | $1.45 – $2.20 Year Range | $1.50 Last Trade (halted)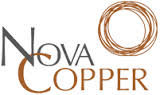 NovaCopper Inc which is developing the large, high-grade polymetallic Upper Kobuk Mineral Projects in Alaska, announced after market today that it would raise $20 million of which $10 would be allocated to three strategic investors representing ownership of 45% of NovaCopper.
The other $10 million is being raised on a best efforts basis underwritten by RBC Capital Markets and Cormark Securities.  The offering will be priced once marketing commences.
The three major shareholders participating in their pro-rata amount of the $10 million raise are Paulson & Co, Electrum Strategic Resources LP and The Baupost Group.  The use of proceeds include continued exploration and development at their Upper Kobuk Mineral Projects as well as permitting and environmental work there.
In September of last year, the company released a preliminary economic assesment on the most advanced of their deposits, the Arctic deposit.  This report showed a 12 year mine-life producing 210 million pounds of copper equivalent per year at total "all-in" cash costs of $1.26/lb of payable copper.
The project is located in Alaska which has seen very public opposition to certain large-scale mining projects, however these projects are 200 miles east of the world's largest and highest grade zinc mines, Teck's Red Dog mine (51.3Mt at average grade of 15.7% Zn).
As of November 30, 2013 the company had $6.5 million in cash.
Environmental permitting remains the key catalyst.
Read: NovaCopper Files Preliminary Prospectus Supplement and Announces Concurrent Private Placement