After a very impressive rally in precious metals and mining shares during the past couple of weeks, there is some cause for near term concern as sentiment has suddenly turned bullish on the sector.
The latest Commitment of Traders data from the CFTC clearly shows a massive amount of short covering and some renewed speculative zest from smaller traders:
Click to enlarge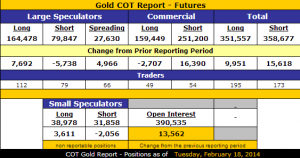 This is the largest net bullish positioning by small speculators since last September when gold prices tumbled more than $100.
Massive short covering by large speculators contributed greatly to silver's 7%+ two day rise on February 14th and 18th. 
While there is certainly some cause for concern in the near term, we know very well that sentiment is not a good market timing tool and sentiment can remain at extremes for extended periods of time – a quote from Neil Leeson of Ned Davis Research:
"Investors can remain optimistic on gold just as long as they were pessimistic (nearly all of 2013). Our mantra is to go with the crowd until it reaches an extreme, and then starts to reverse. Trend, flows, and momentum are all positive; sentiment is really the only indicator suggesting caution."
Both charts of gold & silver show bullish consolidations after their recent upside breakouts: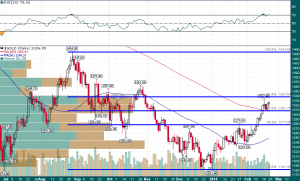 Gold has near term support near $1308 with significant resistance $1340-$1350.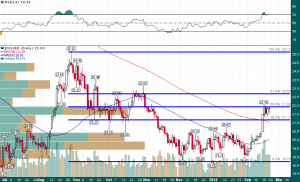 Silver faces stiff resistance near $22 with near term support levels below at $21.40 and $21.00.
Precious metals investors should be happy to see a further consolidation after the recent upside moves. Some cooling off in sentiment and working off a bit of the recent overbought condition in gold & silver will only serve to prepare the market for the next upside surge.