Gold has bounced off the $1180 level twice in the last year, most recently in late December. Since then, it's had a fantastic run and, at the time of writing, was trading at $1380. That's nearly a 17% gain in less than 3 months.
Nickel's up nearly 20% off its 52-week low of $5.97 with a majority of those gains also experienced in the last 3 months.
As nickel doesn't have quite the fan following that gold does, these price climbs have gone unnoticed by many. When I notice a 20% price gain in any commodity in such a short period of time, I ask myself if there's something happening here; has there been a fundamental change that will continue to drive price upwards or, alternatively, is it time to initiate a short position and fade the rally.
Before we can get a feel for where nickel may be going, we have to take a quick look at where it has been.
Viewing this longer term nickel chart, it's a lot less bullish. After peaking near $24 in 2007, nickel has been trending down or sideways for the last 7 years.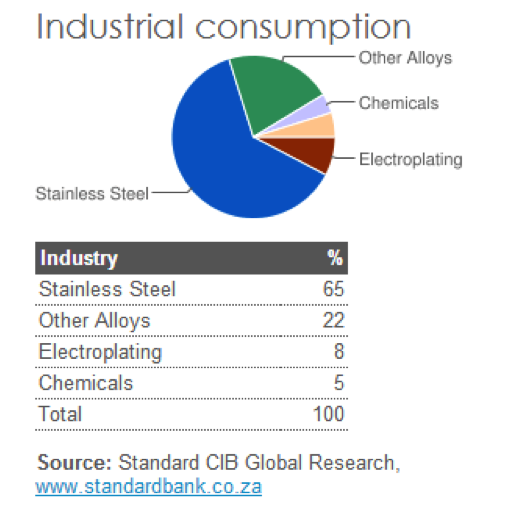 Given nickel's lack of uses outside industrial applications, structural analysis of supply and demand can be somewhat accurate in predicting price movements. Unlike gold, very few people are storing nickel away to be traded for guns and butter when civilization collapses. Nickel is mainly used in the production of stainless steel and other alloys which means its demand is positively correlated with stainless steel production. China, South Korea and Japan are home to 6 of the top 10 largest steel producers on the planet. According to the Nickel Study Group China, Japan, America, Germany and South Korea are the world's largest consumers. China just so happens to consume more nickel than those 4 other countries combined. As such, demand cues may be garnered by following the economic outlooks of the aforementioned countries.
Copper prices are off 13.6% this year. If nickel and copper demand are both largely dependent on Chinese consumption, why hasn't nickel sold off too? I believe this may be a function of supply.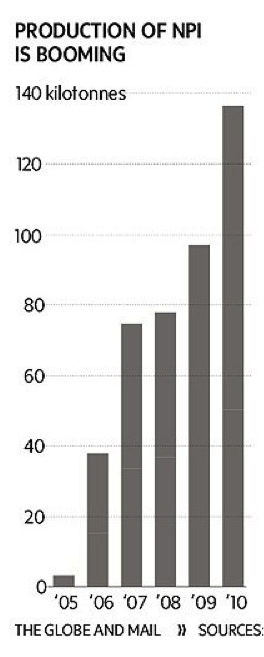 Nickel shortages caused prices to spike leading up to the 2007 high and, as is typical with high prices, demand contracted and a refined nickel substitute, namely Nickel Pig Iron (NPI), sent nickel prices falling back to earth. NPI was being touted as the "Sudbury Killer", as the alloy was being marketed as a lower cost alternative to refined nickel. NPI production grew 700% in just a few short years and threw the nickel market into oversupply.
What would happen if a large percentage of China's NPI ore supply were all of sudden removed?
On January 12th, 2014 Indonesia began a ban on the export of unprocessed ores. Indonesia is hoping to generate greater revenues by driving mining companies to develop downstream processing capabilities in-country. Seeing as Indonesia has some of the world's largest nickel laterite deposits, this cut in supply may have a dramatic effect on prices. The Indonesian government provided guidance that nickel ore exports will drop from 60 million tons in 2013 to 3 million tons in 2014. That's a 95% drop in nickel ore exports. The well known metals/mining research group Roskill Information Services recently highlighted that in 2013 Indonesia supplied 59% of China's nickel ore.
China's believed to have stockpiled 6-12 month's worth of ore just in case the ban was enacted. Many believed that Indonesia wouldn't initiate this ban as it has led to the displacement of hundreds of thousands of workers directly and indirectly involved in the mining business. Indonesia has parliamentary elections in April and a presidential election in July. It's not often one sees a government knowingly displace workers ahead of elections. Regardless, for now the ban is in effect and if the Indonesian government is serious about attracting the necessary capital required to build refining and treatment facilities, it will remain in effect. The government appears to be serious too as there are currently at least 10 Chinese freighters detained by the Indonesia's navy for holding what is now deemed to be illegal ore shipments.
Nickel is produced from lateritic and sulphide ores with lateritic ores comprising roughly 70% of the known, on-land global nickel resources.
Lateritic ores are formed by the weathering of ultramafic rocks and mostly found in tropical regions that benefit from warmer temperatures and higher rain falls. Indonesia, Philippines, New Caledonia and Australia together account for roughly 69% of the world's known lateritic ores. As this type of ore results from weathering, it's found close to surface with, after reaching a depth of 20m's or thereabouts, metal values diminishing the deeper you go. These deposits are mined in a similar fashion to a sand/gravel pit operation utilizing open-cut mining methods.
Despite the low tech mining involved in digging the ore up, getting the nickel out is a very complex and costly process. The ore is often low grade, lacks continuity and is mineralogically complex. Associated CAPEX for processing facilities is usually in the billions of dollars and, as such, requires substantial economies of scale.
And although no two deposits are identical, one can generalize that, for the most part, producing nickel from sulphides is a simpler process often resulting in higher margins. It lacks the technical risk associated with the laterites.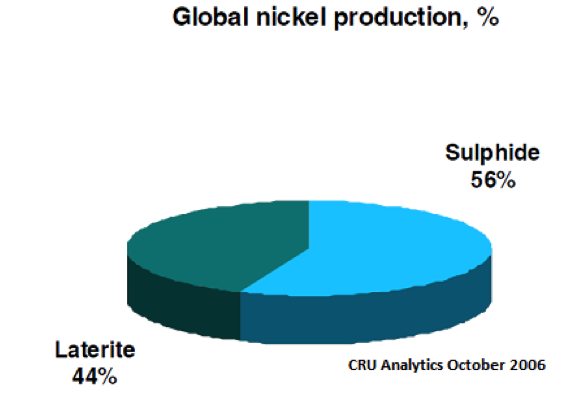 In fact, despite lateritic ores being more plentiful, a majority of all nickel produced up until the end of the last decade, was from sulphides. It's only because there's been a lack of large, higher grade sulphide discoveries that production from sulphides has waned in comparison to laterites.
The Philippines may be able to ramp up ore shipments to China but it won't come close to replacing what's just been removed from the market. Once those ore stocks are depleted, close to 45% of the NPI production won't have feedstock. The smelters could start bidding up what feedstock is available and that may lead to the operating costs of NPI production elevating above the break even. Maybe Chinese stainless steel producers decide to make the switch back from NPI to refined nickel.
As to where nickel prices go from here, BMO has a 2014 nickel price target of $6.60 per pound. Toronto Dominion Securities has a price target of $7.43. In a recent presentation, a well known commodities strategist predicted that we could quickly see $13+ if the ban is maintained and ore stock piles aren't as robust as previously thought. If nickel prices do continue their march upwards, the leverage gained from investing in companies that produce, develop or explore for nickel should be impressive. As I work for an exploration company that's recently announced a nickel discovery, I'm slightly biased though.
Do your own due diligence.
Authored by Shaun Pollard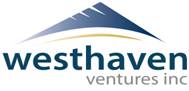 Shaun Pollard is the Chief Financial Officer at Westhaven Ventures Inc., an exploration Company under the stewardship of Canadian Mining Hall of Fame Inductee and the 1999 Prospector of the Year, Gren Thomas. Westhaven recently announced a nickel discovery resulting from their inaugural drill program at their BEN Project in British Columbia. Gren Thomas stated, "Given the limited drilling to date, we're encouraged to have discovered this near surface nickel mineralization. A broad zone of alteration and geochemical anomalies can be traced over a distance in excess of 10 kilometres and we believe the BEN property has the potential to host a significant amount of nickel. A limited Induced Polarization (IP) Survey led to the targeting of the discovery Hole BN13-03 and this target remains open in all directions." Thomas goes on to add, "We lost Hole BN13-01 before hitting our intended target but we still believe there is a viable gold target to be drilled in the North Ben Creek zone. That being said, we are going to be focusing much of our attention on this new nickel discovery." For more information please visit www.westhavenventures.com or call Shaun on 1.604-681-5521.
Twitter: https://twitter.com/westhaven_inc
Linkedin: http://www.linkedin.com/company/westhaven-ventures-inc.
Facebook: https://www.facebook.com/westhavenventures?fref=ts