The Euro Area continues to face challenging disinflationary headwinds which have vexed ECB policymakers for the past couple of years:
Click to enlarge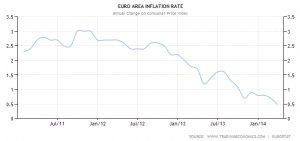 After this morning's ECB statement and Mario Draghi press conference it is becoming increasingly likely that the ECB is on the cusp of launching some form of large scale asset purchase program (LSAP) – a few choice excerpts:
" we are closely following developments on money markets. The Governing Council is unanimous in its commitment to using also unconventional instruments within its mandate in order to cope effectively with risks of a too prolonged period of low inflation." – ECB Introductory Statement
"The risks surrounding the economic outlook for the euro area continue to be on the downside" – ECB Introductory Statement
"The longer the period of low inflation, the higher the risk" ~ Draghi
"My biggest fear is actually to some extent a reality. That is the protracted stagnation (we are already seeing)." ~ Draghi
"the ECB will present a joint paper with The Bank of England on ABS at the next IMF meeting" ~ Draghi
"The euro area can't really go back to serious growth if the banking system is impaired." ~ Draghi
It's not difficult to read between the lines of these quotes and excerpts from the introductory statement; the ECB is seriously considering LSAPs, however, these purchases are likely to be focused on credit easing through the banking system via ABS purchases (asset-backed securities). Low levels of inflation and economic growth are especially pernicious for bank lending and credit growth.
From our vantage point, this morning's ECB press conference was a tacit admission that the ECB is in the final stages of preparing a LSAP program focused on Euro Area ABS . Such a move by the ECB is likely to be highly beneficial for the share prices of Euro Area banks and potentially a large negative for euro exchange rates (EUR/USD, EUR/GBP, etc.).