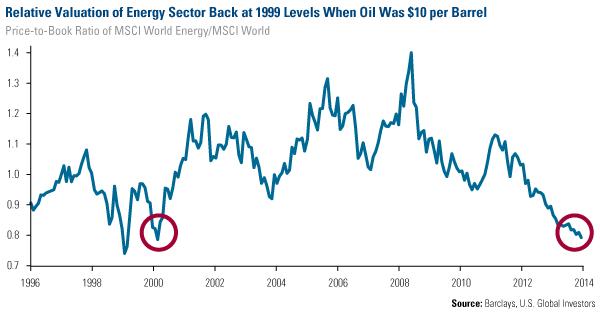 The energy sector is deeply out of favour, as the above chart from Frank Holmes, CEO and CIO of US Global Investors, illustrates.
Calgary's junior oil patch, considered the petrie dish of the entire energy industry, is among the hardest hit, now in the third year of its downturn.
There are several factors at play here. Gone are the days of building a 5000 bopd producer before selling to an income trust and starting over. Additionally, retail investors have become more risk averse, and are avoiding junior companies. Institutional investors are favouring larger deals where they can more easily deploy $25-50 million. The result is putting juniors in a bit of a tough spot. Read: Juniors' growing pains. Financial Post
Calgary's energy sector lacks investor relations expertise, says Steve Calderwood, a former energy investment banker with Salman Partners, who has recently joined 5 Quarters Investor Relations Inc. Read: Calgary banker who left Salman trying hand at investor relations. Globe and Mail (subscribers only).
Many of the junior energy CEOs we've encountered balk at suggestions to spend more time and money on IR activities like hosting site visits, presenting at investment conferences, pitching their stories to the media, and or advertising. They are focused on delivering results, rather than communicating their stories to the market.
Who can blame them: merit is the best IR, but there should be a better balance between execution and communication, at least in the case of publicly traded junior oil companies.
Retail investors bear some responsibility here too. Canada's junior oil patch has been an incredible, albeit risky, wealth creation tool. If retail investors don't soon show some love for the sector, the whole thing could end up private.
Related: Calgary energy merchant banker Sonny Mottahed interview. CEO.CA