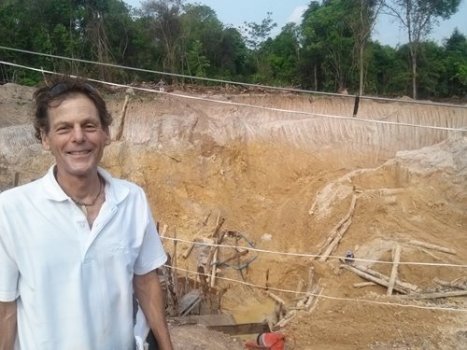 GRAND PRAIRIE, Alberta – Mike Weeks and Delayne Weeks of Canada had a dream five years ago: create a gold mine. Do it in a nation that has never produced gold commercially. Use the process to educate and enrich an impoverished population.
The country is Cambodia. The mine is in northeast Cambodia, close to Vietnam. Phum Syarung, its name, is proceeding to production at triple the pace of any mining jurisdiction in southeast Asia.
"Cambodia is the most mineable jurisdiction I know, and it is rich in untapped minerals," says Mr. Weeks, a former oil executive who negotiated leases and contracts in north Africa. He and his wife, Delayne, have been claiming Cambodia mineral properties for six years.
Angkor Gold ($ANK:CA) owns seven mineral licenses totaling 1,448 square kilometres.
Among a handful of other companies from Australia, China and Vietnam, ANK appears to hold a first-mover advantage in the country. A co-founder, Richard Stanger of Australia, assisted Cambodia in the country's nascent mining strictures. Mr. Stanger modeled many of the new rules on those used in his home of New South Wales.
This past week, Angkor Gold struck a $10 million transaction with a Beijing merchant bank. The China entity is using its capital and a team of geophysicists and geologists to accelerate Angkor Gold's development work on at least three separate concessions.
"They already see gold, silver and copper that to them is very economic. But we are the second largest landholder of mineral concessions, so they'll have plenty of work," says John-Paul Dau, a 34-year-old Calgary resident who lives in Cambodia and serves as Angkor Gold's operations chief. Mr. Dau's wife, Vee, is a Cambodia citizen, and the two are expecting their third child in June.
Then there is Phum Syarung, the gold mine that Mr. Weeks and his team prospected for three years. An India steel company caught wind of it. That company, Mesco, now owns half. JK Singh, Mesco's chairman, said this week in Cambodia, after viewing the development work, that he expects gold (and silver) production by late 2015.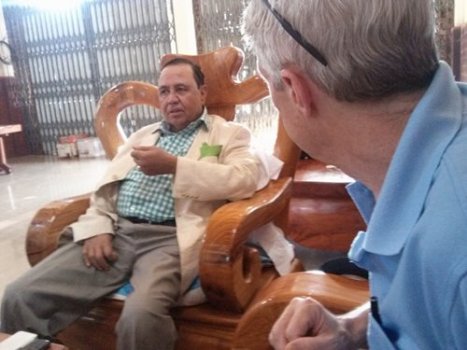 Here is how I size up the situation from Cambodia this week, as I write this article for CEO.CA and Equities.com:
"Metals prospectors have been in the dog house the past three years. Angkor Gold's strategy has been to expand using other people's money. So far, it is happening," I said. I am an investor in ANK shares and am in Cambodia this week for the fourth time in two years.
In December 2012, Mr. Weeks sold another property, right atop the border with Vietnam, to another China group. That was straight cash: $2.4 million.
Ms. Weeks, Angkor Gold's director of community relations, made her mark in Canada with a franchise of ATM machines. She is establishing Cambodia's first FPIC (Free Prior Informed Consent) meetings with Cambodia villages in Angkor Gold's mineral concessions.
Ms. Weeks also runs the ANK Foundation, a non-profit that provides medical equipment, builds schools, installs water-collection devices and runs training centers in Cambodia.
"On a business level, the company has ridden the havoc and the downturn in the global market for junior mining companies," says Steve Cochrane of Richardson GMP, a securities firm with offices in Calgary.
Mr. Cochrane is advising his clients to research Angkor Gold's "news" this week: a $10-million dollar commitment from the Beijing investment and mining consortium. Thus far, ANK shares have gained in the wake of the fresh China cash and expertise coming into the Angkor Gold ATM.
The Weeks family, along with Alberta investors, probably hold between 55 percent and 60 percent of Angkor Gold's 80 million shares. On a global scale, ANK shares are performing among the top 10 percent of all metals equities worldwide in the past three years.
Ahead for Angkor Gold: a possible endorsement, with cash, from social responsibility groups and quasi-governmental agencies such as World Bank's IFC unit.
Again, sorry for the third person angle here, as I quote The Calandra Report: "I've been to the same company's projectsfour times only twice in my research," I say. "Mike (Mr. Weeks) has this ability to connect with government and industry in a very cool country. He is on a first name basis with every minister he needs to know."
I have been purchasing ANK shares regularly. I expect Mr. Weeks to roll in oil and gas leases for Cambodia onshore concessions into the Angkor Gold share structure. This past week, an Australia entity is viewing yet another ANK concession for possible development as a joint venture, with cash to Angkor Gold. Were that to happen, Mr. Weeks and his wife, Delayne, and their board of directors and 50-person largely Cambodian team on the ground – not counting the China and India workers here – will have farmed out four properties in two years in the Buddhist nation.
In the meantime, the new gold mine will start producing a net smelter royalty to Angkor Gold as early as mid-2015.
Thom Calandra for CEO.CA and Equities.com