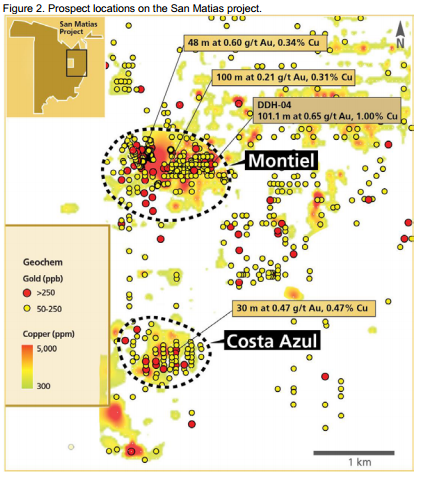 Colombian copper-gold explorer Cordoba Minerals was mentioned in PI Financial's latest Digging Through The Dirt (DTD) newsletter, which is authored by Bill Whitehead, Senior Vice President & Senior Investment Advisor, Adam Simmons, Ph.D. Geology, Investment Advisor, and Justin Hayek, CIM, Investment Advisor.
Cordoba Minerals – CDB-v
You will recall that in previous issues of DTD we outlined a significant copper/gold discovery made by Cordoba at its San Matias project in northern Colombia within prospective porphyritic rocks. The highlight drill hole returned 101m at 1% Cu and 0.65 g/t Au. The main point of contention was the continuity of the system. That is, two areas of known mineralization are separated by saprolitic rocks for approximately 700m. In order to establish continuity of the system Cordoba planned a RAB drill program that would effectively sample the rocks below the saprolite between the known mineralized areas.
On April 21st the company provided an exploration update for the project. Thus far, 50 RAB holes have been completed in the western area of the known mineralized outcrops. Going into May and June the company should start progressing east towards the eastern outcrop and perhaps by mid-July we will know the outcome of this program and be better able to judge the potential size of the system. Meanwhile, the company has been exploring outside the core Montiel prospect area and has been completing mapping, geochemical, trenching and RAB programs. A highlight trench sample from the Costa Azul prospect area (approximately 1.5km south of Montiel) returned 75.6m at 1g/t Au and 0.3% Cu.
Additionally, the company discovered a new prospect approximately 1km south of Costa Azul, where a channel sample returned approximately 4% Cu over "significant widths" with elevated LREE's (light rare earth elements) and uranium (Figure 2). Within this release the company also stated that it has commenced a stream sediment sampling program in the southern part of the tenure (south of Costa Azul) and a RAB drilling campaign immediately north of the Montiel west area. Once all of the RAB data is received by the company and the ground work is completed, Cordoba will plan a follow-up diamond drilling campaign, which is tentatively scheduled to start in late June.
On April 23rd the company announced a 2:1 share consolidation, pending approval by the TSX-V. This will bring the issued and outstanding shares down to 58,812,103. Although Colombia is currently not a politically favorable jurisdiction, if you are looking for exposure to a newly defined area of highly prospective porphyry Cu-Au potential, this is a company to watch. Though it will be important to establish the continuity of the Montiel trend to justify the current market capitalization of the company.
The April 2014 edition of Digging Through The Dirt PDF can be downloaded here.
Contact the gentlemen at PI Financial to subscribe.