While the Nasdaq-100 is flirting with a classic head & shoulders topping pattern, the S&P 500 has formed a diamond pattern over the last three months:
Click to enlarge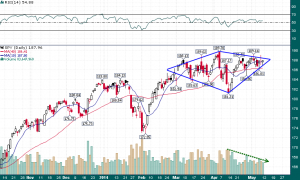 This pattern is likely to reach some resolution next week; a break below the 50-day simple moving average (~186.50) would indicate a measured move target of roughly 178 on the SPY (1780 level on the cash S&P 500 index).The diamond pattern could also resolve to the upside and trigger a move up to nearly the 2000 level for the S&P.
The lighter volume in recent days along with the narrowing range and increasing levels of indecision among market participants all point in the direction of a large, decisive move likely occurring in the coming days. Stay tuned…..