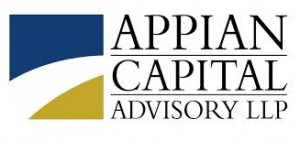 A few weeks ago we interviewed Michael Scherb, the young founder of London-based mining private equity fund Appian Capital Advisory LLP.  In that interview Mr. Scherb told us, he saw tremendous value in the mining sector and aimed to allocate $150 million in select public and private companies this year.
Well, Mr. Scherb continues to deliver on his promises.  On Friday, insider filings showed that Appian acquired an additional 2.2% stake (5,249,588 shares) bringing their total stake to 12.3% in Roxgold Inc.  The shares were acquired out of the market, in tranches ranging from $0.60 to $0.70 per share.
In a comment by email, Mr. Scherb told us: "we are supportive of the companies we invest into and have the flexibility to dip into the market."
Appian invested $12.5 million in Roxgold in March 2014 by acquiring 21.6 million shares at $0.58 per share.  Clearly, the project is developing to Mr. Scherb and his team's expectations as they continue to invest millions of dollars into the company.  Roxgold is developing the high-grade Yaramoko gold project in Burkina Faso which is set to be a ~100,000 ounce per year producer with average LOM AISC of $590/oz and pre-production capex of ~$105 million.
Mr. Scherb also informed me that his firm recently invested into an Australian-listed copper developer named Avanco Resources.  Appian entered the story as part of $23 million private placement doe at $0.075 per share (10.3% premium to the market). The $23 million was undertaken by Appian and Blackrock (how much each took is unclear).  Glencore is also a large shareholder (~12%).
Avanco has a $100 million market cap and is developing the late-stage Antas copper mine in Brazil which is the first of two projects the company is developing.  Antas hosts 4.10Mt at 2.48% copper in the M&I category (JORC compliant).  The second and considerably larger is named Pedra Branca and will be developed once the company puts Antas into production and is generating cash flows.
Avanco expects Antas to cost $70 million to complete and say they are close to finalizing project debt.  First copper production is expected by early 2015.
Clearly the smart money like Appian, don't abide by the adage "sell in May and go away".
By the way, Appian is up 19% on their investment in Roxgold in just under 2 months (do the math on what type of annualized return that is):