Ross Beaty's Lumina Copper (LCC:TSXV) which is developing the world-class Taca Taca copper asset (21.15 billion pounds of copper, 5.56 million ounces of gold and 615.8 million pounds of molybdenum) in Argentina has caught a bid, up $1.23 per share to $7.61 at the time of writing.
The company released a mandatory report stating the rise could be due to the ongoing strategic review process which began in June 2012 after shares fell from $16.25 to $9.50 post-Argentinian political mess.
The company had high hopes of selling the company north of $20/share in early 2012, but then was unpleasantly surprised with the political jousting that took the shine off Argentina as a mineral resource mecca.
The project needs to be in the hands of a deep pocketed senior or state-owned enterprise as the capital cost is estimated at $3 billion.  Taca Taca is expected to produce 244Kt of copper and 110Koz of gold annually over a 28 year mine life.
Ross Beaty and project manager Guillermo Almandoz at Taca Taca: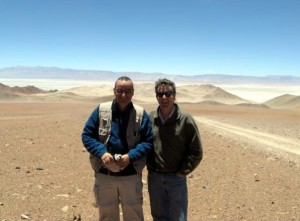 (Photo: Trish Saywell)