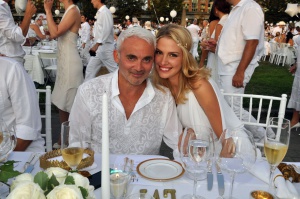 Well known Canadian businessman and philanthropist Frank Giustra has joined Twitter.
Follow him here: @Frank_Giustra
Giustra is best known as the founder and first CEO of Lionsgate Films, now the world's largest independent film studio.
He is also an accomplished natural resource developer, having co-founded Wheaton River Minerals, which subsequently became Goldcorp and spun out Silver Wheaton, as just one of countless examples of his activities in the natural resources sector.
Giustra is a well known gold investor and commentator, continuously believing that the yellow metal would rise in value since the year 2000.
The entrepreneur made headlines in 2007 for pledging over $100 million to President Clinton's Foundation, since establishing the Clinton Giustra Enterprise Partnership.
Domenica Fiore Olive Oil, ranked #1 in the world at numerous olive oil competitions, is another Giustra success.
He is also a co-founder of Modern Farmer magazine.
The final song, Little B, on Grammy award winning musician Sarah Mclachlan's 2014 album, Shine On, was written by Giustra.
Here's one of Mr. Giustra's first Tweets:
Debutant tweeter here. Only scary the first time.Stay tuned for interesting ideas,articles,events and points of view.

— Frank Giustra (@Frank_Giustra) June 6, 2014
And the timeless video interview about wealth creation we taped together in August, 2012: