Colombia's New President | Gold Standard's Pinon
BOGOTA — Why does the wind in Panama blow from north to south? Because Colombia apparently sucks.
For gold prospectors anyway. Let's hope the Latin America paradise sucks for leftist rebels in coming months as well.
Colombia is one of my two favorite places in the world among mining jurisdictions that also prove up 1. lovely, honest people; 2. postcard-perfect settings; and 3. mouth-gaping equity losses.
Entonces (Therefore), being I am on a mini-roll, after banking Tonalist in the thoroughbred-racing Belmont Stakes this past weekend, I shall try for a parlay payday.
In Colombia, Juan Manuel Santos seems bound to lose the presidential run-off election this coming Sunday. We only can pray this is so.
The run-off comes one day after Colombia faces Greece in World Cup soccer, Group C, in Brazil.
When Óscar Iván Zuluaga sweeps into office. Mr. Zuluaga will proceed to WIPE the rebels OFF the face of Colombia's picture-perfect hills, dales, valleys and mountains. Just as importantly for most Colombians, the new president then will imprison or otherwise penalize and punish whoever is left standing — absurd FARC negotiations not whithstanding.
Following which, Mr. Zuluaga will turn to the mining, energy and agricultural segments of his country's economy, which is expanding at a 4 percent clip yet should be doing twice that pace. He will clear up the morass of bureaucracy and failed computer systems that stall and kill worthy gold, copper, coal, gypsum and oil-gas projects across his resource-rich land.
The new president, one expects, will work with subsistence miners — otherwise known as illegals or the ridiculously undeserved term artisans — so that the heathens no longer use explosives, black markets, mercury, extortion, murder and child labor to reap their daily grams of mineral. Maybe even, Mr. Z. publicly will shine his light on truly great GOLD AND SILVER mining projects — such as Continental Gold at Buritica. See: Continental Gold (T.CNL) marks 97 grams per ton of gold @ Buritica.
In so doing, the new president will be inviting the country's inflow of foreign direct investment to regain the thrust it had under heroic former president and newly elected SENATOR Alvaro Uribe.
In CNL Continental, Mr. Z., President Zuluaga, has one of the best run, pleasing to the eye and highest-grade vein deposits of underground gold and silver not just in Antioquia and not just in Colombia, but in all of the central and south Americas. That is at Buritica, close by the city of 5 million, Medellin. If CNL shares in Canada trading go any lower, as in below $3, I am a buyer for the first time.
I've been to CNL's Buritica twice officially and one more time nearby. Beautiful country, a titanically profitable mine in the making (it already produces a token amount each month) … and yet surrounded by a most evil and destructive stream of illegal miners who also deserve a new president's attention.
Mr. Z. shall do all this so that the landscape-loving people of Colombia — all 51 million of them (don't believe the official count) — can get beyond the flash-trash headlines of their tabloids and instead learn that good miners, like good coffee growers, are as important to his gorgeous nation and its economic and social well being as good football teams are.
Of course, the odds of that happening in his first year of office are probably as far-fetched as Tonalist was at 10 to 1 before the big race. But not, one hopes, as long odds as Colombia at 45 to 1 is in FIFA WORLD CUP.
We'll see. First, Mr. Z. must beat his even-odds chance at winning the runoff Sunday. When that happens, I will be pledging to visit the nation another 21 times over the span of six years, renewing my equity affairs with (to date) Colombian Mines, out-performing Atico Mining, struggling Solvista Gold, evaporating Waymar Resources and one or two others.
That's right, I still own all of those, and a couple of others in what was 75 years ago South America's largest gold producing nation.
Until this Sunday, then, I'll have to settle for my other gold mining paradise: Cambodia.
More Parlay
1. I know insiders (execs) and related parties who are purchasing shares of New Gold (NGD). The miner's all-in costs for producing an ounce of gold (USA, Mexico and Australia jurisdictions) are below $875, supposedly. I say supposedly only because — like box office for film — you never know what is behind the numbers unless you are at the mine and at the mill and in the front office. Still, NGD shares are rising on decent trade in a June-swoon market. At $5.37 USD, the biggest risk is the shares return pronto to $5 a share. Keep an eye on the stock, which I do not own and have no interest in buying.
2. Platinum equities suck these days, whichever way the wind is blowing. I always have been a plat-fan and in possession of the coins, and yes, the plat-prospector stocks. South Africa labor troubles could send the price to $1,700-plus ounce soon, several agencies are reporting. But when, pray parlay platinum?
A yearly deficit in terms of supply looks the worst since 1975. Why are our platinum prospectors and mine developers there doing so poorly? Our South Africa longtime holdings here at home and in our The Calandra Report research — Ivanhoe Mines and Platinum Group Metals — are in the dumper. Actually, PTM (in Canada) is hanging in there. Ivanhoe Mines (IVN in Canada) is in the dumper of all rubbish heaps, having demolished many hundreds of millions of dollars of equity value since going public on the main Toronto board 21 months ago.
I have owned these two for so long, they will need to quintuple from current levels to justify any kind of decent multi-year return; in the case of IVN, the hold period is stretching to 11 years now (first as a private), so make that a sex-tuple (6X).
Always good to own some platinum — in my case 2009 Canada Maple Leafs and commemorative Nelson Mandela sets from several years ago. Looking for platinum mines outside of RSA South Africa — sans the labor risk? Wellgreen Platinum's ultramafic results from the far western end of its Yukon property are showing the kinds of thicknesses, widths and strike lengths, as much as 2.5 km, that will get the attention of New York and Boston hedge funds. (WG in Canada) Longshot: Bitterroot Resources in Michigan — we shall know more on its last-gasp attempt at platinum, nickel, hey, whatever, we'll take it, assays in the mining-friendly state come July or so. I own BTT (in Canada) and I do NOT own WG (Wellgreen).
3. This is the month when Russell indexes re-set based on market cap requirements. This might benefit several companies we follow, including Sysorex Global Holdings (SYRX on NASDAQ proper ), if it increases its market worth by another 15 percent or so to above $100 million. Also: BioCryst Pharma (BCRX), which was $1.50 or so a year ago at this time and is now at almost $11.50 for a market worth of $800 million. That one — with several drugs in clinical trials — has some mo-mo going on the share price.
We'll see some BioCryst peramivir news for influenza before June 30, hopefully a positive endorsement from U.S. Health & Human Services. BioCryst just sold about $120 million or so worth of shares to the public at $10 each. I own a metric ton of BCRX. It is mo-mo-moving higher. I have been purchasing SYRX and know the principals.
4. We await Gold Standard Ventures and its anticipated exploratory drilling and resource report on the recent Pinon purchase in Nevada. (GSV in USA and Canada).
The 12-hole program at Pinon, which is similar to Newmont-owned Emigrant Gap's collapsed-style breccia about 20 miles away, likely will be completed in the next week or two. A resource could emerge as soon as July. The hole assays will be out much sooner and could be actionable for investors.
We spent time in Los Angeles with Nevada-centered Gold Standard Resources and leveling CEO Jonathan Awde. Youngish Jonathan says we will see compliant resources and a mineral inventory from GSV's three targets by year's end: Railroad's North Bullion Zone, recently purchased Pinon and nearby gold-copper Bald Mountain. Pinon, purchased from Scorpio Gold, could show some of Nevada's most readily oxidized gold — perhaps 1 million inferred ounces at almost a gram per metric ton, according to reports I have collected. Some of the material includes discussions and formulae that are not for publishing.
What is for public viewing is brokerage analyst Mike Gray's work of the past two years. Mr. Gray is up there in Canada.
Now, this that follows is all theory, and soon, one gathers, the published numbers shall do the talking.
At Pinon (photo of current drilling attached), some 1 million oxidized ounces at depths of less than 125 meters would give Gold Standard Ventures a sell-able property, if it so wishes. Or one with a three-year timeline to heap-leach production at an operating cost of, dare I even estimate, $600 an ounce.
Once GSV's geology team completes an analysis of stratigraphic sections for Pinon, the company might be able to trace similar, if not identical, rock types (minerals, formations, thicknesses, texture) across each of its three targets. Such an occurence on the geological layering of the deposits would go some way toward allowing technicians and other outside analysts to determine a "safe" and inferred resource estimate for all three targets, well before year's end. Maybe even by mid-July. Gold Standard by November, I believe, will have additional resource estimates or a mineral inventory published and filed in Canada and the USA for North Bullion Zone (Railroad) and Bald Mountain. Most of that will be inferred and allow for interpretation by company executives, if I understand the concept correctly.
Jonathan Awde drew a respectably sized crowd at the LD Micro event in Los Angeles; I believe GSV was one of 4 or 5 resources companies at the gathering of some 110 companies. "Getting our first resource published at Pinon is a de-risking event," said Mr. Awde, who has yet to reach age 40, so cannot yet be faulted for his use of industry jargon.
He's honest enough and admits he will have to "go back to the market" to raise yet more money, diluting existing shareholders, for the umpteenth time. I accept that.
Two other Pinon heap-leach comparables — aside from producing Emigrant) — are Corvus's Bullfrog, which is a quarter of what Pinon's grade could show, and Midway's Pan.
Both are not yet producing and both are in Nevada.
I remember where I was when GSV published assays from breccia drilling at Railroad (North Bullion). That was in September 2013, and I was in Toronto, meeting with a graphite company — [not I might add Nouveau Monde Mining, but keep an eye on that Quebec property developer and its discussions with 1. a nearby graphite miner; and 2. a diamond-property dealer; NOU now].
Gold Standard at the time showed 98 meters of 3-plus gram/gold at Railroad near Elko. It already had something like 75 grams of 3.5-gram-plus gold in the tray, and that core was from close by. Most of it was breccia, which is a success in Nevada Carlin Trend set-ups if the grade shows a mere 1 gram per metric ton.
The GSV geology team benefited from senior-citizen and cowboy David Mathewson's bold senior-citizen strikes across a vast holding there in the high desert. Now, more methodical structuctural geologists are at work on GSV properties, including the new Pinon. Mr. Mathewson is onto a fresh GSV assignment at another property and inside another corporate entity.
I think, once the 12 holes get published, we could see a bunch more back-of-the-envelope estimates not just for what Pinon holds, but across the three properties. (I am estimating 4 million ounces on the three targets alone. There is something like 115 square km total in GSV's land package, a nice portion of it owned outright and the rest claimed, staked, optioned and so on.) This is because, as stated, stratigraphical similarities, layering matches if you will, across that part of GSV's Nevada holdings, will make it so.
Pinon is considered a sister deposit to Emigrant. But little is known even with some drilling at the Pinon property in years past. What I do know after seeing Railroad twice is that any data confirming similar structure, grades, depths (less than 125 meters), trend direction — more info about flat-lying breccia, for instance — could be extrapolated and employed by outside analysts in their own deposit models.
Theoretically, again, gold and silver at Pinion outcrops at surface, then would get hauled downhill to private sections that already are secured, with water rights.
I could go on, but I am not one to employ statistical models. This is what folks such as Mike Gray do. I just buy the stock, and buy the stock, for years now. I visit the properties, spend time on the telephone with the principals, party with the promoters, and pray to play and parlay.
GSV has become one of my five largest natural resource positions and is a member of the TCR 7.
*I want to thank X. XX. XXXX for the help on GSV. In addition, Y. YY. YYYY.
-Thom Calandra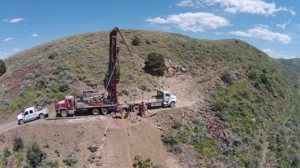 Subscribe @ THOM's Page​
THE CALANDRA REPORT: Subscribe
$110 yearly: Does Not Recur