Three weeks ago gold broke down below support near $1275. At that time it was impossible to find a single bull in the room. Speculators (trend followers) also began initiating fresh short positions and there was a slew of blog posts proclaiming that gold was headed below $1000 in short order.
As is often the case the crowd has been exactly wrong in recent days as gold has clawed back to previous support near $1275:
Click to enlarge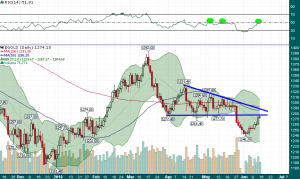 The real challenge for gold begins next week as there is sure to be ample supply between $1275 and $1300.
Finally, those who attempt to attribute this week's gains in the gold price to the Iraq insurgency are surely fooling themselves. The gold market has been fairly easy to figure out this year; it moves whichever direction punishes the majority of market participants. Expect more of the same for the foreseeable future.