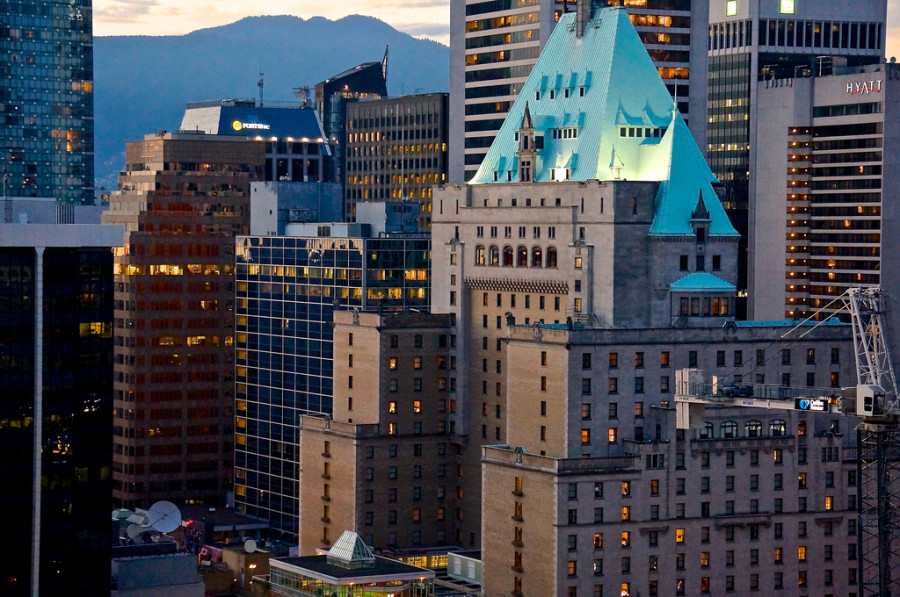 Quick Links: Sprott Natural Resource Symposium Schedule, Registration.
For the past 19 years, Agora Financial, the world's largest financial publisher, has organized an impressive natural resource investment conference in Vancouver each summer.
We learned from Sprott USA Chairman Rick Rule that Agora wanted to take a step back from hosting the annual event, and since Rule considered it the finest retail conference of its kind in the world, he offered to run with it.
Tomorrow, the first annual Sprott Natural Resource Investment Symposium kicks off at the Fairmont Hotel Vancouver and CEO.ca's Travis McPherson and I are very excited to be participating in the three day event.
Along with his Sprott colleagues, Rule has put together an unreal lineup for this year's event.
It all kicks off tomorrow evening with cocktails at the Hotel Vancouver, but out of town guests have the option of joining a mine tour of the historic Britannia Beach mine, once BC's largest copper producer, a short drive up BC's scenic highway 99.  This is the most beautiful stretch of highway anywhere on the planet.
Following the mine tour, Rule himself and John Mark Staude's Riverside Resources are hosting a lunch at the Furry Creek Golf Club, which I will be emceeing, for approximately 100 conference attendees.
The conference really gets going Wednesday morning, with Rule giving the first speech at 8am.
Illusive billionaire mining legend Robert Friedland will give a one hour presentation on his Ivanhoe Mines at 10:45am Wednesday.
Friedland is followed by a slew of impressive companies, including Riverside, Balmoral, Almaden, and Reservoir, back to back and all before lunch.
Exploration Insights editor Brent Cook will be participating in two presentations after lunch in the Columbia room.
The companies presenting Wednesday afternoon are equally impressive as in the morning: Lydian, Lara Exploration, Reservoir, Eurasian, Platinum Group Metals, Mirasol and Altius are all there.
Eira Thomas, CEO of Kaminak Gold, surely to be one of the event's most exciting stories following an impressive $13 million raise from Lukas Lundin and Ross Beaty last week, speaks in the boardroom at 3:40pm Wednesday.
Dynamic young entrepreneur Amir Adnani of Brazil Resources and Uranium Energy will also be presenting in the Waddington room.
At 5:10pm, Bob Quartermain will give a presentation on his Pretivm Resources in the Saturna (Discovery) room.
In the evening, Doug Casey, Louis James and Marin Katusa of Casey Research will host a panel with members of their respected "Explorer's League", including Ross Beaty, Dave Lowell, Mark O'Dea and Ron Thiessen.
Thursday's session gets interesting at 9:30am with a joint presentation by William Lamb, CEO of Lucara Diamond Corp, and Wojtek Wodzicki, CEO of NGex Resources. These are two executives from the Lundin Group, the global natural resources development group headed by Swedish tycoon Lukas Lundin.
Ivan Bebek, CEO of Cayden Resources, and one of the hardest working young mining executives today, follows the Lundin crew.
Brent Cook is on again at 12:30pm Thursday.
At 1pm the Lundin Group are hosting a lunch (limited availability).
Govind Friedland will present his GoviEx Uranium story, and Robert Pease's Sabina Gold and Silver are among the afternoon's sessions.
The youngest CEO in the crowd, Jordan Trimble of Skyharbour Resources, age 27, will also be hosting an afternoon workshop.
Matthew Hornor of Kaizen, Dev Randhawa of Fission are among the 4:30-5pm sessions.
The 5:10-5:40 session looks very interesting, with Brent Cook, Lundin's Wojtek Wodzicki, Lowell Copper's Marcel de Groot and others presenting.
Casey Research will host another evening panel, this time with the next generation of mining executives Casey feels will be the future's big winners.
Eric Coffin of Hard Rock Advisory, Keith Schaefer of the Oil and Gas Investments Bulletin, Frank Holmes of US Global Investors, and Doug Casey of Casey Research are among Thursday's presenters.
As you can see this is really shaping up to be an incredible event.
Find the event's schedule here, and register here ($699 USD).
Travis and I look forward to seeing you there.
Image: blazzzinred [vancityhotshots]