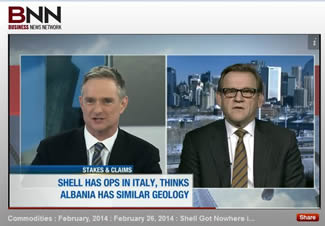 Roughly $70 million in market capitalization has been wiped off Petromanas Energy over the past two weeks, as shares in the Albanian focused oil and gas explorer have tumbled from $0.335 per share July 16th, 2014 to $0.235 at press time, despite no news over the same period.
The company is currently drilling the Molisht-1 well in Southern Albania, in a joint venture with Royal Dutch Shell (25% and operatorship to Petromanas, 75% working interest to Shell).
The joint venture is targeting massive and deep structures in Albania believed to contain light oil which they hope can flow at commercial rates.
Petromanas CEO Glenn McNamara tells CEO.ca by email that the highly anticipated Molisht-1 well is drilling ahead, and that the company will publish an update soon. McNamara has been on the road, he said in the brief email.
The last update from the company was on June 20th 2014 when the Molisht-1 well was drilling ahead at 4650 meters on its way to 6000 meters total depth, where testing is expected to take place. While that drilling update slightly delayed timelines for the completion of the well (H2 2014 estimate), evidence of natural fractures seen while drilling excited Haywood Securities energy analyst Darrel Bishop, with a Buy rating and $0.50 price target on the company's shares.
Mr. Bishop told my colleague Travis by email this morning that: "A lot of the recent weakness in PMI is due to guys getting nervous heading into Molisht-1 results.  Also, whenever an exploration focused stock gets weak like this heading into a result, people assume that "someone knows something that I don't" which creates a bit of a snowball effect."
He added: "The risk of not finding natural fractures was partially de-risked with the latest drilling update in June. With what is likely to be a large wellbore (est. 7 inch) into the deeper carbonates we believe with the presence of natural fractures sets up the potential for a strong test rate if oil is present and the partners are successful in drilling to the target depths."
Petromanas Energy had come to life over the past year, following a discovery at the Sphirag-2 well in early November 2013, which saw 1500-2200 boe flow to surface during an extended test. Since the company's shares have climbed from a low of $0.10 to as high as $0.39.
In light of no news from the company, explanation for the selloff could come from memories of the Shpirag-2 well, which encountered drilling difficulties at depth and resulted in a reduced well bore diameter, cost overruns and results delayed by almost a year. Memories of Shpirag 2 are potentially weighing on investors, some of whom are piling for the door ahead of results from Molisht-1. And as we all know, such nervous selling can become self fulfilling.
A recent video by the company makes a compelling case for the scale of the discovery in Albania, which Petromanas needs to now prove can flow to surface at commercial rates. A successful outcome of the Molisht-1 well could be a huge game changer for the company, but they are also vulnerable to the opposite outcome.
As a shareholder in Petromanas I am biased, always do your own due diligence.