Uranium bulls got a potential (and much needed) boost this morning after a strike warning was sent to one of the world's largest uranium producers which may cause them to close the world's richest uranium mine, indefinitely.
Also, Cormark Securities initiates on NexGen Energy (NXE:TSXV) with an $0.80 per share target price which translates to 45% upside from current levels.
Cameco Forced to Close Richest Uranium Mine:
The wires are awash with the news that Cameco (CCO:TSX) is being forced to shutdown its McArthur River mine (70% Cameco, 30% AREVA) and Key Lake mill complex (83.33% Cameco, 16.66% AREVA) on August 30th amid a looming labour strike that could see operations remain shut for months.
The two operations will produce in excess of 10% of this year's primary global uranium production.
Cameco received a strike notice from the United Steelworkers Local 8914, and in response the company has begun a shutdown of McArthur River and Key Lake mill and will cease production there immediately.
According to Cameco's release this morning, they have issued a lockout notice effective 12:01 a.m. on August 30, 2014 to assure a safe and orderly shutdown of its facilities although they will continue to meet with the union during the 72-hour notice period.
The work stoppage involves approximately 535 unionized employees at the two operations.  The company has never had a labour strike at any of its mines and some analysts believe the company will be able to avoid the strike during the next 72 hours of discussions.
Regardless, the company said it does not expect the strike to affect their 2014 uranium contracts as they have amble supply sources from primary production, existing purchase commitments and inventories to meet their current contractual obligations.
Should Cameco be unable to avoid this dispute and should it last for a few months, global supply may be strained.  This would be bullish for the spot price, especially if Cameco has to buy out of the market at spot prices to meet their contracts.  This would only occur in a long-term labour dispute which seems unlikely given Cameco's record of being an excellent corporate citizen.
McArthur River is the richest uranium mine in operation today and is by far Cameco's most significant asset, producing  14.1 million pounds (net) of Cameco's 23.6 million pounds of total annual production in 2013.
Some analysts peg the uranium market being oversupplied by 10 million pounds until 2016, so any long-term shutdown of McArthur and Key Lake could swing the supply surplus to a deficit.
The uranium spot price had a strong August with the price per pound of uranium for immediate delivery jumping $2.50 (8.7% increase) during the month to $31 which is where it closed today.
Shares of Cameco traded down 3.5% or $0.77 per share to close at $21.14 on the Toronto Stock Exchange today.
Below is a virtual tour of the McArthur River mine:
Cormark Calls for $0.80 NexGen Shares:
Just a day after releasing their best hole to date (still in progress and no assays provided yet), Cormark Securities' senior mining analyst Mike Kozak initiated formal coverage on NexGen with an $0.80 per share target price.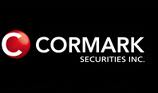 Mike was with us on the inaugural analyst site visit a few weeks ago and was, like the rest of us, impressed with the potential there (read: "All Signs Point to Arrow").
Shares closed up $0.01 today on over 5 million shares traded and are up 31% since announcing the latest results yesterday.
According to the TSX trading records, Cormark was responsible for at least 22% (or 1.1 million shares) of the buying today.  I say "at least" because that is the buying that was entered through house 73 (Cormark) and other shares from Cormark could have been bought anonymously or through other brokerages.
Mike notes that the Arrow discovery shows as much prospectivity as Fission's Patterson Lake South (PLS) deposit did this early in its exploration days.  NexGen has drilled just 27 holes into Arrow.
He initiated on Alpha and Fission in July 2013 when the two had drilled some 60 holes into their discovery.
At the time, both companies had enterprise values of roughly $80 million each for their respective 50% interest in the project meaning the market valued the PLS deposit at $160 million.
At $0.55, NexGen has an enterprise value of $87 million (assuming $5 million in cash) and they hold a 100% interest in the Rook I property which hosts the Arrow discovery.
Read: Strike Notice Prompts Shutdown of McArthur River and Key Lake Operations
Also: NexGen Drills 'Landmark' Hole at Arrow
Disclosure: I am long NexGen Energy and they are an advertiser.  I am biased.  Always do your own due diligence.