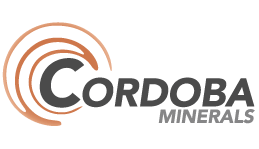 One of the most promising mining explorers is Cordoba Minerals (CDB.v), which combined three separate companies to explore the Cordoba copper-gold porphyry project in Northern Colombia, considered one of the best exploration prospects in that country. In a recent Digging Through The Dirt newsletter, PI Financial's Adam Simmons, 33, and a Ph. D. Geo, said upcoming drilling would test a soil anomaly between the Montiel west and Montiel east zones, which has the potential to be one larger discovery.
Here's PI's full comment on the company:
Cordoba Minerals Corp. (CDB.v) – $0.49

Cordoba Minerals released further results of their initial RAB drill program at their San Matias project in Colombia. In summary, the results of these RAB holes discovered porphyry style mineralization at the Costa Azul showing and better defined mineralization at the Montiel West and Pirita showings. Copper-gold mineralization at Costa Azul is quartz-magnetite stockwork and sheeted veining within diorite porphyry intrusions. Currently the RAB drill is on the Iguana target located approximately 800 meters north of the Montiel West prospect. The rig will then move on to test the large copper and gold in soil anomaly between the Montiel west and east showings. The results of this area are of particular importance to the project as they could demonstrate a clear spatial link of the Montiel west and east zones. If these zones are indeed continuously linked, it could represent a single large porphyry center which would be a much more desirable scenario to the currently established small but spatially distinct clusters at Montiel, Costa Azul, etc. We will update you as the results of the RAB drilling from the Montiel area become available; we then should be able to make some statement about the potential size of the system prior to diamond drilling. With all of that being said, this project stands a fair chance at making a real copper-gold porphyry discovery.
Other companies covered in PI's letter: Hemisphere Energy Corp (HME-v), Desert Star Resources (DSR-v), Macro Enterprises Inc. (MCR-v), True Gold Mining Inc. (TGM-v), Roxgold Inc. (ROG-v), Fission Uranium Corp. (FCU-v), Cordoba Minerals Corp (CDB-v), Constantine Metal Resources (CEM-v).
Read the whole thing here: Digging Through The Dirt – August 2014