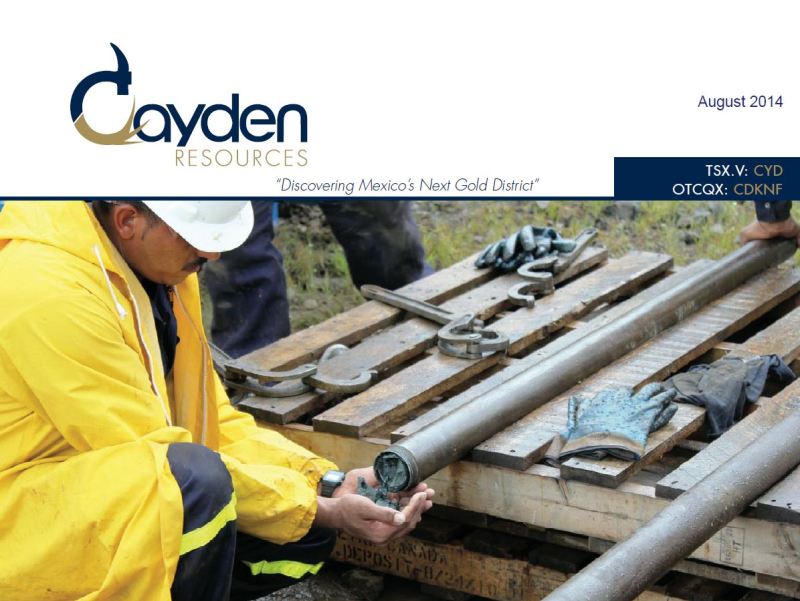 Agnico Eagle Mines has agreed to buy Vancouver-based junior Cayden Resources (CYD:TSXV) for $205 million in cash and stock in an announcement after market today that may come as a shock to Goldcorp.
Under the agreement, which is supported by Cayden's management and board representing 19.8% of the votes, each Cayden shareholder will be entitled to 0.09 of an Agnico Eagle share and CDN$0.01 in cash.  Agnico Eagle (AEM:TSX) closed today at $37.08 per share (market cap of nearly $8 billion).
The offer represents $3.79 per share and a 42.5% premium to Cayden's 30-day VWAP.
Investors of Cayden's last financing in April ($9 million bought deal at $1.70 per share) are happy.  They are up 123% in just 5 months.
"We are pleased with the value that this transaction delivers to our shareholders and are excited at the prospect of Agnico applying its resources to the advancement of El Barqueno and the results that will surely follow. Our success could not have happened without the hard work of our entire team, and I'd like to thank them for all of their outstanding efforts." said Ivan Bebek, President and CEO of Cayden Resources.
Mr. Bebek (age 37) was a co-founder of Keegan Resources (now Asanko Gold) which is developing a large gold mine in West Africa and has a market cap of over $400 million.  Followers of Mr. Bebek have done well in these two deals and so has he. Mr. Bebek owns 3,273,500 shares and another 500,000 options according to SEDI, which means his position could be worth as much as $14.3 million should the deal close.
For only 2.3% dilution, Agnico Eagle takes control of two gold exploration projects in Mexico; El Barqueno and the Morelos Sur concessions which includes the Las Calles sliver.  This sliver straddles the Los Filos and El Bermejal pits at Goldcorp's (G:TSX) Los Filos mine and limits Goldcorp's ability to push back its pit walls and access its gold.  Ultimately, many analysts believed that Goldcorp would acquire Las Calles via an acquisition of Cayden and open up both pits into one large super-pit.
There still could be a competing bid from Goldcorp should they want that piece of land although they might be gun shy after losing a bidding war for Osisko to Yamana and Agnico earlier this year.
Los Filos is one of the largest gold mines in Mexico and is estimated to produce 330 to 345,000 ounces of gold this year.
"This acquisition is consistent with our long-term strategy of acquiring promising, early stage gold projects where we can add value through focused exploration and mine building", said Sean Boyd, President and CEO of Agnico Eagle. "This strategy has served us well in Mexico, and we believe that the Cayden properties are a very good fit with our existing southern operations and skill sets", added Mr. Boyd.
El Barqueno remains wide open and although it is hard to know exactly what Agnico sees, it is evident by their premium that they see a lot more potential there.
Cayden is optioning a 100% interest in the El Barqueno project from Grupo Mexico for $8 million.  They have paid $3.45 million to date.
Canaccord Genuity acted as financial advisors to Agnico Eagle and Minvisory advised Cayden.
Cayden has been successfully developing the El Barqueno project in the face of disastrous equity markets.  The explorationists identified a mineralized zone 13.5km long by 4.7 km wide but have focused their exploration dollars on the Azteca zone where wide, high-grade intercepts have been encountered (including: 59 metres of 2.2g/t gold and 0.13% copper and 20 metres of 4.26g/t gold and 0.06% copper).
They have attracted some smart bank support as well with Canaccord, Haywood and Beacon all officially covering the story.
Cayden intends to mail the information circular within the next 3 weeks and they expect to close the transaction before year-end.
Good projects attract good people and it will be interesting to see what Mr. Bebek and his team will do next.  We will be watching closely.
Mr. Bebek is on the board of Auryn Resources (AUG:TSXV) along with his collegue Shawn Wallace and is essentially a shell with $2.8 million in cash (as of March 31, 2014).  Mr. Bebek says he will take a bigger role in Auryn if and when Cayden ceases to exist.
Read: Agnico Eagle to Acquire Cayden Resources
Click HERE for link to Agnico Eagle's presentation on acquisition.