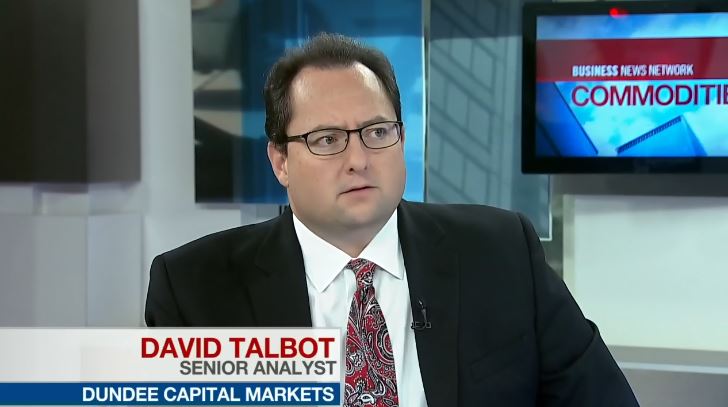 This morning on BNN's Commodities with Andrew Bell, Dave Talbot who is Dundee's uranium expert, spoke about the recent strength in the uranium spot market (click image above).
The spot price for uranium is up over 30% from ~$28 per pound in June/July to $36.50 this week.  Mr. Talbot believes the strength is overdone given that he feels most of the strength is 'perception driven' as opposed to based on changes in supply-demand fundamentals.  He thinks the market expected Cameco's strike to last longer than it did and that investors might be overestimating the impact of sanctions on Russia.
He does cite recent supply disruptions, including the shut down of Paladin's Kayelekara mine in February of this year, as potential sources for supply-driven strength underlying the price of uranium.
As for picks, Mr. Talbot likes: Fission Uranium and Denison Mines (news out this morning).  He thinks Cameco might come calling and buy Denison at some point.
Andrew Bell's Commodities runs on BNN Television Monday-Friday at 11:30am Eastern, 8:30am Pacific time. Follow Andrew Bell on Twitter @TweetrBell.
Related: Denison hits 15.8% uranium over 2.3 metres at the growing Gryphon zone