After being halted for the end of the trading day today, Lundin Mining (LUN:TSX) announced they are purchasing Freeport-McMoran's 80%  share of the Candelearia mining complex in Chile for US $1.8 billion. The remaining 20% ownership will stay with Sumitomo Corp. Franco-Nevada has reached a tentative deal with Lundin on a $698 million precious metals streaming financing package as part of the transaction.
This is a major deal for both of these respected mining companies and will provide growth for both moving forward. The mining community had been speculating on Franco acquiring a big stream since they closed a $500 million dollar bought deal on August 21st (rumour has it this was not an easy one to get off the underwriters' books).
This Globe and Mail article by Rachelle Younglai was speculating on a potential deal back in July.
Lundin's Been Looking for Copper:
For Lundin, Candelaria adds what they have been looking for: another base load copper producing asset in a good jurisdiction.  The deal comes with Candelaria which is a large open-pit (270,000tpd), Candelaria Norte (6,000tpd underground mine), a 75,000tpd concentrator, Okos del Salado which is two underground mines and a 3,800tpd concentrator as well as a wholly-owned and under-utilized port facility.
Paul Conibear, President and CEO stated "The acquisition of Candelaria is a unique opportunity to acquire a large scale, high quality copper operation with strong cash flows in an excellent mining jurisdiction. Candelaria is a well run, renowned asset with superb infrastructure and an experienced operating team. This transaction further enhances our Company by providing increased operational and geographic diversification, using a balanced financing structure which allows us to maintain a strong balance sheet going forward."
To close the deal, Lundin expects to secure a $1 billion senior secured debt package ($250 million will pay off existing debt), along with $648 million from the FNV stream and a $600 million bought-deal financing ($5.10/share). The Lundin Family Trust will participate for $100 million and FNV for up to $50 million of the bought-deal.
The FNV/LUN Terms:
Franco will acquire a gold and silver stream on the mine for a $648 million upfront payment as well as subscribing for $50 million in Lundins planned receipt financing for a total consideration of $698 million.
Franco will receive 68% of all payable gold and silver from the entire life of Candlearia (85% of Lundins stake).
The stream will be reduced to 40% (50% Lundins stake) after 720,000 ounces of gold and 12 million ounces of silver have been delivered to Franco.
Franco will make a payment per ounce of $400 for gold and $4 for silver with this payment escalating 1% annually.
An attractive part of this acquisition for Franco is that they will start receiving immediate cash flow/revenue when the deal closes. Candelaria is expected to add 35,000-40,000 gold equivalent ounces to Franco this year. Pro forma it will add 60,000-70,000 gold equivalent ounces to Franco's production profile.
"Franco-Nevada is pleased to partner with Lundin to support this major step in its growth," said David Harquail, President and CEO of Franco-Nevada. "Today's announcement is a good example of how royalty and stream financing can work in parallel with more traditional debt and equity financing sources to help an operating company execute a major acquisition. For Franco-Nevada, this will be a new cornerstone asset defined by substantial cash flow, upside potential and attractive geography."
The Candelaria Mining Complex:
The Candelaria mine in Chile is one of the top 20 producing copper mines in the world today. Chile has numerous copper mines but the Candelaria Mine has two huge advantages being close to the coast and at a low altitude. It has excellent infrastructure with excess capacity. Lundin expects to put another +$300 million into tailings storage in order to expand capacity over the next five years.
Production commenced in 1993 and the current life of mine is another 14 years till 2028. Franco and Lundin expect a new reserve estimate to be out in 2015 and to extend mine life considerably. Freeport currently values its copper reserves at $2 per pound which is the lowest of it all it peers (source BMO research). The potential to add increased resources remains high with the current land position of 150 square kilometres.
Franco has been one of the best performing gold companies this year; royalty companies in general continue to outperform all other types of gold equities. Management at FNV continue to aggressively pursue deals in a weak gold environment which will potentially reward shareholders handsomely when the gold bull market returns.
Click on image below for transaction presentation (found on Lundin Mining website):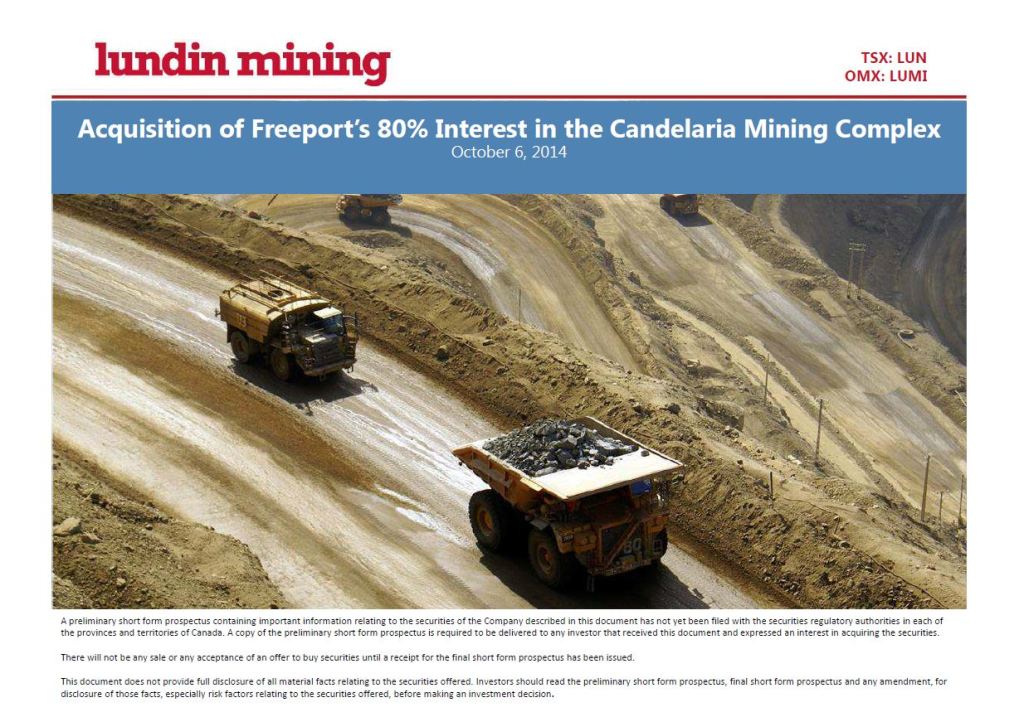 Read: Franco-Nevada to Acquire a Gold & Silver Stream on Candelaria from Lundin Mining for $US 648 Million (FNV)
Also: Lundin Mining Announces Agreement to Purchase Freeport's 80% Interest in the Candelaria Mining Complex (LUN)
Disclosure: No positions in any of the companies mentioned. Always do your own due diligence.