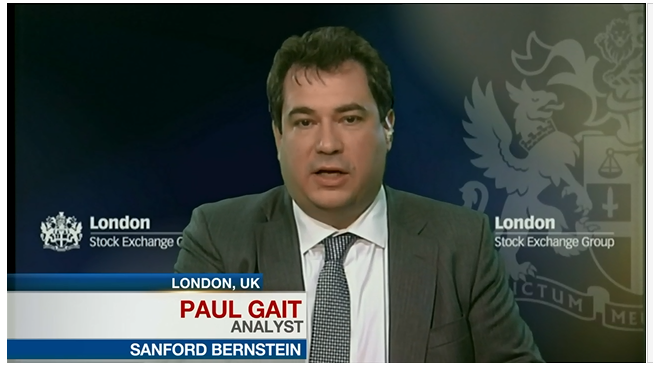 Senior analyst at global research firm Sanford Bernstein, Paul Gait, says a merger between Glencore and Rio Tinto to form GlenTinto makes a lot of sense.  He spoke to Andrew Bell on BNN's Commodities.
"I think the shareholders of both companies (Glencore and Rio Tinto) ought to welcome the deal," Gait believes.
"If you look at the portfolio overlap here, what you've got is a very complimentary set of commodities.  You've got the base metals portfolio, copper, nickel, zinc sitting with Glencore as well as optionality around thermal coal and you've essentially got iron ore sitting with Rio Tinto," says Gait.
He claims BHP has traded at a premium to the rest of the global mining giants because of their scale and diversity of commodities.  With GlenTinto, BHP would be displaced as the largest and most diversified mining behemoth something that he says would warrant a re-rating in their share price.
With the de-merger of BHP and Billiton Gait says that the mining giant loses a lot of those positive characteristics it (BHP) used to have and provides an opportunity for GlenTinto.  Furthermore, he claims the move by BHP removes optionality within the company on certain out-of-favor commodities.
With regards to Lundin Mining's Candelaria acquisition: "Chile has steadily moved up year on year on year up the cost curve."
Note: we are being told the books on Lundin's $600 million bought deal financing which is part of the $1.8 billion acquisition are now closed.  The Lundin Family Trust cut the biggest check with $100 million.
Follow Andrew Bell on Twitter @TweetrBell.
Read: Glasenberg's Glencore going bid with potential $160 billion bid for Rio Tinto
Related: Rio Tinto responds to mega-merger rumors: "Not interested!"