The general dissatisfaction that accompanies my burning desire to be successful means I often lose sight of the fact that some pretty amazing stuff happens around me.
A few weeks ago my friend, entrepreneur Frank Giustra invited me to lunch with the Dalai Lama.
As a well known business leader, Frank gets roped into a lot of charity events and I didn't think too much about his invitation, figuring he had a table or three at a big banquet to fill. Still, I was excited to see His Holiness in person for the first time.
Frank failed to mention he would be receiving the Dalai Lama Humanitarian Award at the event for his work with the Radcliffe Foundation, Street to Home, Boys Club Network, and the Clinton Giustra Enterprise Partnership.
Frank has given countless hours and in excess of $100 million to these and other worthy causes. He made his fortune developing mines and oil fields during an extraordinarily diverse career that also saw him create Lionsgate Films, the world's largest independent studio, and come to own the #1 premium olive oil, Domenica Fiore, named for his mom.
And Frank can now add 'Dalai Lama Humanitarian Award winner' to his long list of accomplishments. Just don't expect him to tell you about it.
His Holiness arrived after a warm introduction from dynamic Surrey Mayor Dianne Watts. The Dalai Lama's sense of humour surprised me. A woman in the audience asked him for parenting advice, to which he responded "ask an old lady" because he could be of no help having fathered no one himself.
Aside from denouncing materialism and telling the audience the secret to eternal happiness was simply giving back, His H. said the trick to looking and feeling younger is to skip supper (note to self).
President Clinton recorded a surprise video tribute to Frank, and called him a hero and both a local and global citizen.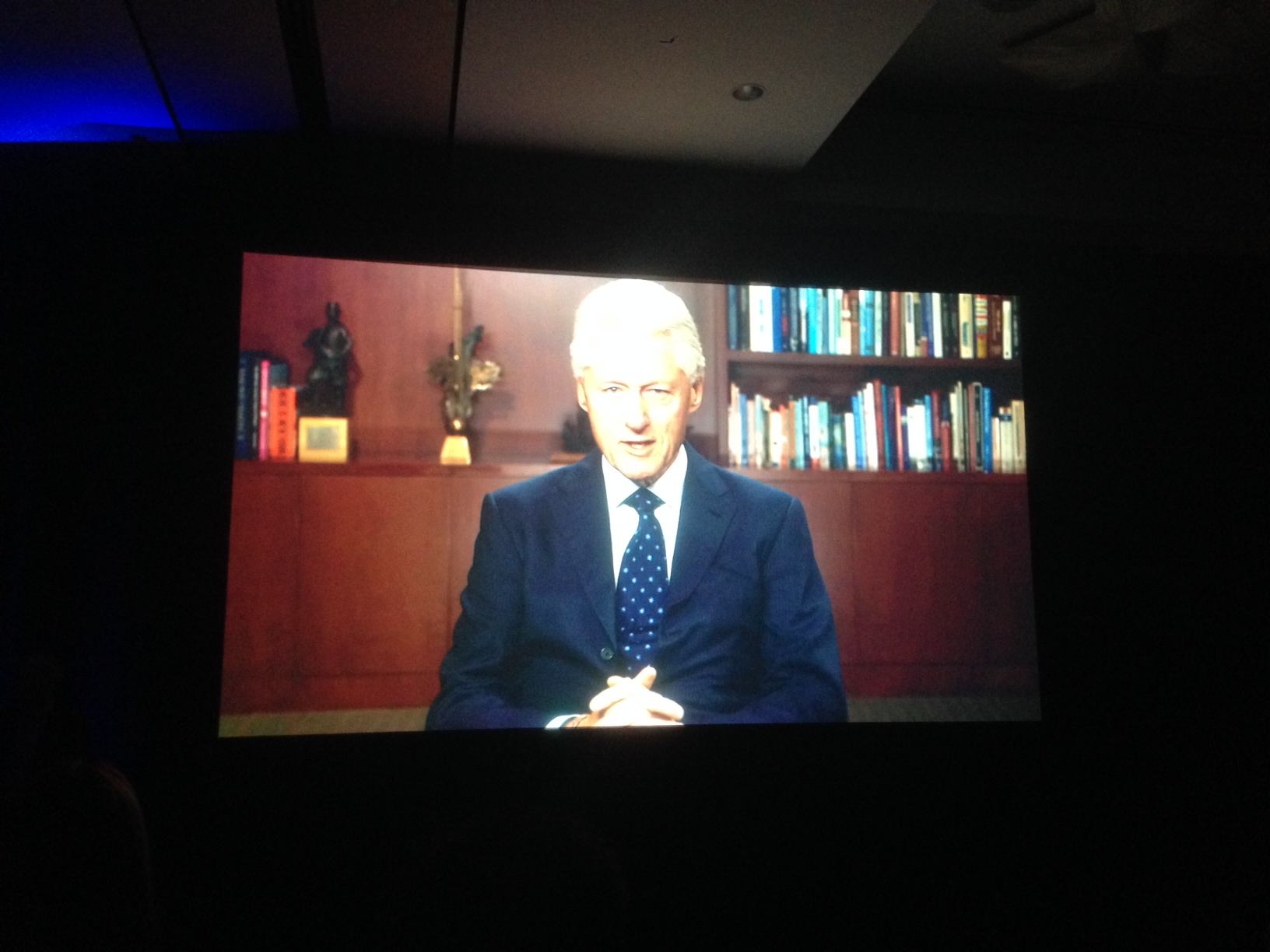 In a short speech Giustra said he gives back so his two children, Isabella and Nicolai, will be proud of him.
"There is no honour in idle wealth," Giustra said to an eclectic crowd which included Canaccord founder Peter Brown, who was flanked by Hootsuite CEO Ryan Holmes and B2Gold Corp. Chairman Bob Cross.
The event also honoured United Furniture founder John Volken and contractor Djavad Mowafaghian for their philanthropic works. It was an inspiration to be in the company of these deserving men.
#DearRichPeople..Children tend to watch what you do far more than listen to what you say.. Lead by example, give. pic.twitter.com/w5iKGNPo0c

— Frank Giustra (@Frank_Giustra) October 22, 2014