Cameco (CCO.T), the company investors turn to for guidance on the current state of the uranium industry, released quarterly results this morning. Cameco believes that uranium will remain in surplus for the short term with continuing strong long term fundamentals.
At press time the market is not impressed. Cameco shares are off  ~3%, trading last at $18.95 per share.
Cameco Quarter
Quarterly results show a net loss of $146 million (37 cents per share fully diluted), mainly due to impairment charges on GE-Hitachi Global Laser Enrichment of $184 million and GoviEX  Uranium  of $12 million.
Net earnings were $93 million (23 cents per share) on an adjusted basis.
Management has decreased the 2014 production guidance slightly, from between 22.8 – 23.3 million pounds to between 22.6-22.8 million pounds. The change was the result of a strike at the McArthur River mine and revised guidance at the Cigar Lake operation.
"Our results for the quarter reflect the ongoing challenges our industry is facing," said president and CEO, Tim Gitzel. "But we continue to show that we're up for the near-term challenge, as we prepare for the increased demand we see coming over the long term," he added.
"To maintain the flexibility to adapt to the evolving market, we continue to work on things that are within our control and focus on efficiency at our operations. Our announcement of first production of packaged pounds from ore mined at Cigar Lake, and our recent contract agreement with our McArthur River and Key Lake unionized employees, speak to that focus."
Uranium Market 
Here are a few takeaways from Cameco on the uranium market:
The surplus in uranium continues to impact the market
A 25% increase in spot price in the quarter was positive from high $20's to mid $30's (although with steady supply available the 25% increase may not be sustainable)
Uncertainty in Japan continues around reactor restarts which influence a recovery in the uranium market (although there are indications that the restart issues are in the process of being resolved)
Long term fundamentals remain strong with 70 nuclear reactors under construction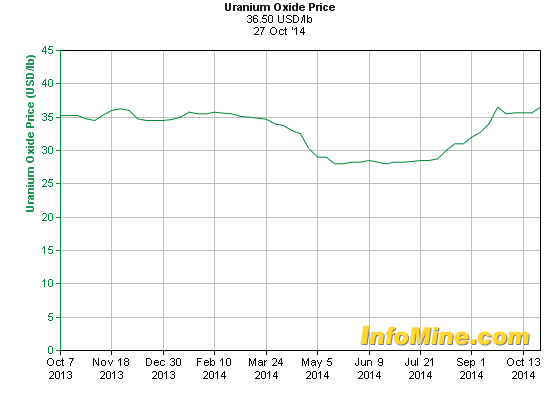 David Talbot, senior mining analyst at Dundee Capital Markets, commented: "We're not confident that we are in a sustainable price rally. We might see a leveling off or rebalancing in the $30–35/lb range. We really don't expect the price to sink back down below $30/lb. Until we see meaningful supply cuts and Japanese restarts spurring uranium purchases, the market remains oversupplied, perhaps through 2017, by our estimates."
The bottom line is that while it may be some time before the uranium market comes back, Cameco looks to be setting up operationally to be prepared for the recovery.
Symbol: CCO.T
Share price: $18.95
Shares outstanding:395.79 M
Market cap: $7.5  B
Read: Cameco Reports Third Quarter Financial Results
I have no position in any of the stocks mentioned. This is not investment advice. As always please do your own due diligence.