Family owned and Chilean based copper company Antofagasta Pls. has initiated a takeover bid for joint venture partner Duluth Metals (DM.T) for 45 cents cash per share. The offer represents a 284% premium over the 20 day volume weighted average price (VWAP). Duluth was the majority owner of the massive Twin Metals project in Minnesota.
The deal looks set to close in mid January and already has approval of directors and officers, and shareholder Wallbridge Mining who collectively own 10.9% of the outstanding shares. Antofagasta already owns 10.4% through a subsidiary company.
Kelly Osborne, President and CEO of Duluth commented: "We are pleased to reach an agreement with our partner Antofagasta and enter into this acquisition transaction. During a difficult period for the mining industry, Duluth has been able to negotiate a significant premium to the current market share price."
The Twin Metals project hosts a large copper-nickel-PGE deposit with proven + probable resources of:
6.2 billion pounds of copper;
2 billion pounds of nickel;
2.4 million ounces of platinum;
5.4 million ounces of palladium;
1.3 million ounces of gold;
33 million ounces of silver.
The project is one of only a few outside of South Africa with significant platinum and palladium resources.
A PFS study released in August shows a IRR of only 11.4% at much higher metal prices so it is clear Antofagasta is taking a long term view of this project.  A significant initial CAPEX of $2.2 billion is projected to build the project.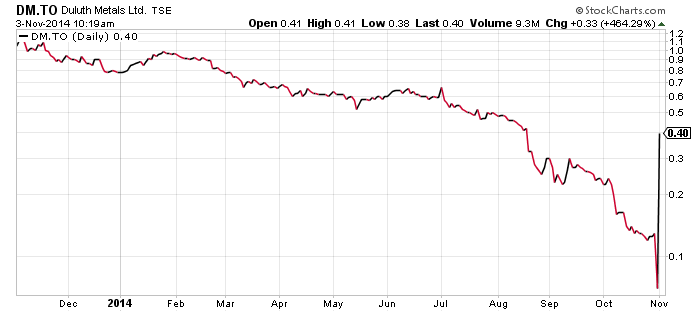 We reached out to Rob McLeod, CEO of IDM Mining (IDM.V), for his quick take on the news:
Antofagasta is a family run business and takes a generational approach to running its business
The Duluth complex may take a decade to permit in Minnesota
This is a massive deposit with copper, nickel, and PGE's
You can follow Rob on twitter @goldfinder12
Antofagasta also has joint ventures with smaller mining companies Full Metal Minerals (soon to be CopperBank), Riverside Resources, and Avrupa.
According to a recent interview with the Wall Street Journal Antofagasta Chief Executive Diego Hernandez is open for more joint ventures.  He states "If you go back some years ago, the majors were reluctant to do joint ventures. I think today that has changed and more and more companies are prepared to do joint ventures to mitigate the risks,"
Symbol: DM.T
Share Price:$0.395
Shares outstanding: 136.77 M
Market cap: $54 M
Read: Duluth Metals Agrees to Acquisition by Antofagasta PLC
I have no position in any of the stocks mentioned. This is not investment advice. As always please do your own due diligence.