IDM Mining (IDM.T) is one of just a few mining companies actively moving forward in a tough market environment. After raising close to $2.5 million in September the company has been busy drilling at the Red Mountain project 15km east of Stewart B.C.
Red Mountain is located in BC's Golden Triangle where the likes of Pretium Resources and Seabridge Gold are developing large and very valuable deposits, and home to famous past mines such as Eskay Creek.
IDM's Red Mountain project already has a robust PEA that shows an after tax IRR of 32.8% and pay back period of 1.5 years.  The project has a low initial CAPEX of $76.1 million and would produce gold at around a $460 per ounce operating cost. The company is working with well known engineers JDS Mining on the project. A Pre-Feasibility study (PFS) study is under-way and expected to be released early in 2015.
In the past two months twelve drill holes were completed focusing on finding additional resources.
Three drill holes were completed at the 141 zone which is 280 metres southwest of the Marc/AV/JW Zones which hosts the current mineral resources of ~460,000 ounces of gold and 1.5 million ounces of silver (in all categories) at a grade of between 7-10 g/t.
All three holes intersected mineralization with the highlight being MC14-03 hitting 138m of 1.41 g/t including a high grade interval of 7.5m of 10.4 g/t, on strike with a historical intercept of 6.0 metres of 32.87 g/t gold.  The high-grade is significant in that it could potentially be accessed through a proposed production ramp accessing the Marc and AV zones and wide open for expansion. Any additional ounces found will increase project economics.
A second and intriguing aspect is that these results show potential for a larger, bulk tonnage porphyry gold target at Red Mountain. Numerous historic intercepts encountered thick intervals of 1 to 4 g/t Au over a broad area. The Brucejack and KSM properties in northwestern BC host massive deposits at these grades or less.
We called up Rob McLeod, President and CEO of IDM Mining, and he said to expect additional assay results in the next few weeks from additional drill holes completed at the Cambria Zone, Marc Extension Zone, and AV Zone. Significant exploration upside exists on the Property, in particular where rapid glacial melting is exposing new mineralization.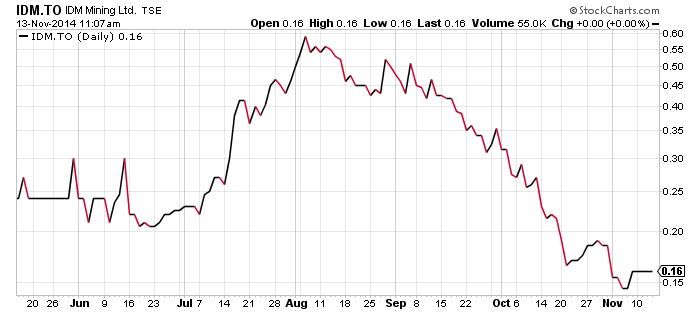 Despite raising $2.5 million at $0.40 and $0.45 this summer, IDM's stock has lost 2/3rds of it value in the last few months. Like any exploration stock this is an extremely high risk/reward situation.
Management have a lot of passion for the BC mining industry and experience in the Golden Triangle in particular. This can only help in their quest to build the next valuable gold company out of the region.
Keep your eye on the IDM Mining story by signing up for the email list (bottom right).
Symbol: IDM.T
Share price: $0.16
Shares outstanding: 44.15M
Market cap:$7.1M
Read: IDM Mining drills 138 m of 1.41 g/t Au at Red Mountain
Watch: The Story of IDM Mining
* IDM Mining is a CEO.ca sponsor