Osisko Gold Royalties (OR.T) and Virginia Mines (VGQ.T) have joined forces to create a leading intermediate gold royalty company. The combined market capitalization of ~$1.3 billion will rank the merged company fourth when it comes to precious metals royalty companies behind Franco Nevada, Silver Wheaton and Royal Gold.
The newly merged company will hold royalties on two world class producing gold mines located in Quebec, Canada.
1. Canadian Malartic mine is operated on a 50/50 joint venture by Agnico-Eagle Mines and Yamana Gold. Osisko Gold Royalties management co-founded and transitioned the project from exploration to production. The team sold the project earlier this year for ~$3.9 billion. A 5% NSR (net smelter return) was retained on the asset which was used to start Osisko Gold Royalties. The Malartic mine is currently producing approximately 525,000 ounces per year.
2. The Eleonore mine is Canada's newest gold mine with first gold pour on October 1st, 2014 and is operated by Goldcorp. The mine is in the ramp up phase and is expected to produce 323,000 ounces in 2015 moving toward an annual run rate of ~600,000 ounce. A sliding scale NSR royalty of between 2.2 % -3.5% is held on this asset.
Royalty interests are also held on several non producing assets giving investors exposure to a total of 29.6 million ounces of gold.
Transaction details
Each Virginia share will be exchanged for .92 of an Osisko share
Current valuation is $14.19 per Virginia share (41% premium on Friday's close)
The deal has full support of both companies and Virginia shareholder Altius Minerals
Expected to close in early 2015 after shareholder meetings in January
Sean Roosen, Chairman and CEO of Osisko, stated: "The business combination of Osisko and Virginia creates a leading intermediate royalty company with the two most valuable royalty assets in the gold sector, both of which are located in mining-friendly Quebec. Shareholders of both companies will benefit from increased diversification, superior trading liquidity, a strong balance sheet and a heightened ability to compete for future growth opportunities in the royalty business. Our teams complement each other and we look forward to integrating their respective skillsets to fuel the future growth of our company."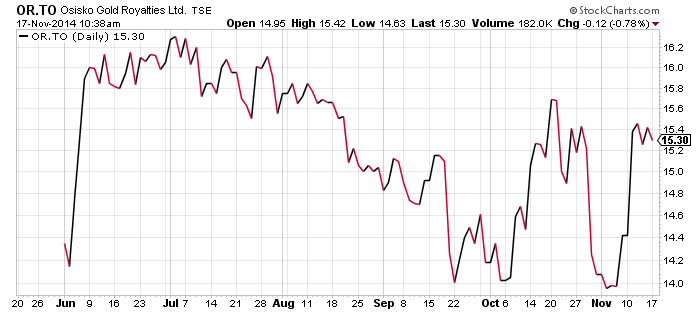 Osisko Gold Royalties has only been trading since June and has bounced around in the $14-$16 level.
The royalty model continues to outperform all other methods of investing in gold for several reasons, which I have included in a previous post on Silver Wheaton here.
Osisko has been busy acquiring equity positions in small junior gold stocks Niogold Mining, Falco Resources, and Nighthawk Gold.
Calibre of management is very important when investing in mining stocks and investors will now get exposure to two of the best management teams in the industry in Sean Roosen and Andre Gaumond.
Osisko has also announced that a quarterly share dividend will be initiated.  The first dividend will be 3 cents per share payable on January 15th.
Investors would be wise to add this one to their watch-list.
Symbol: OR.T
Share price: $15.30
Shares outstanding:  46.7 M
Market cap: $714.5 M
Read: Osisko and Virginia announce business combination to create a leading intermediate gold royalty company
Watch: BNN interview with Sean and Andre
I have no position in any of the stocks mentioned. This is not investment advice. As always please do your own due diligence.