VANCOUVER, CANADA — In the commercial real estate world, when investors expect a piece of land to be an ultra safe investment, prices get bid up, and yields come down.
This makes sense: the safer the bet, the lower the return.
After a crazy week in the markets however, I'm left wondering: is any investment ever safe?
—
Investors and professionals in Canada's natural resources sector know that mining and energy deals can explode, and 100% of our capital is at risk in these companies at all times. Last week's oil price devastation has been a poignant reminder of this fact (The First Axiom of the petroleum industry).
Times like these are tough for mining and energy investors; investment returns are disappointing and it's hard not to compare our portfolios to what they were at the top of a market.
They lament to their friends that they should have bought more real estate and built great condos, if you want to see some great examples of condos see more brentwood condos. And I've heard many complain that their ex-wives got the house, while they kept a bunch of lousy paper.
I have personally invested in many companies in the natural resources sector that have quickly fallen by 50% or more after I bought them. I even own one that crashed 95%, but I can't bring myself to sell it.
But here's something I've been thinking about recently: how often do you hear about real estate investors losing even 20% on a deal (US Housing bubble aside, blame the Fed for that one and move on). Unless of course interest rates go through the roof, which hasn't happened in over 30 years here in Canada, real estate is a sound place for your investment dollars.
—-
Many of Vancouver's wealthy families established their fortunes in the real estate industry: buy and hold, and if you're really smart, buy and build.
Real estate in this city has never been cheap, for obvious reasons. Vancouver is a beautiful place to live, with a world class recreation playground literally at it's doorstep. Think Whistler for skiing, the Pacific ocean for sailing Gulf Islands, fishing, beaches, and a cultural scene that is rich with ethnic diversity. No wonder there has been a bull market in real estate, at least in my opinion, steadily since the late 1990s.
Add to that the fact that the city is hemmed in between the Pacific Ocean and Coastal Mountains, which means that Vancouver developers have a finite amount of space to build out. Today there are few places left to develop within a half hour's drive of Downtown, by which point you are far removed from the core and usually crossed a few bridges to get there. Real estate for land can be even more challenging since there is a lot more you need to think about when it comes to that type of investment. Luckily there are companies similar to Amerinote Xchange that could help you and give you the guidance you need to get through it.
—
For eleven years, I have mostly called Downtown Vancouver home both personally and professionally. It's a picturesque, small peninsula with some 100,000 residents. There are likely 25x that many people living in the surrounding area.
The West End is an especially beautiful area neighbouring Stanley Park and English Bay on the Southwest tip of Downtown. This spot was home to the first apartment skyscrapers in Vancouver, long before glass towers popped up in Yaletown and Coal Harbour.
Here's a photo of the English Bay skyline in 1959 courtesy Vancouver Public Library (Source):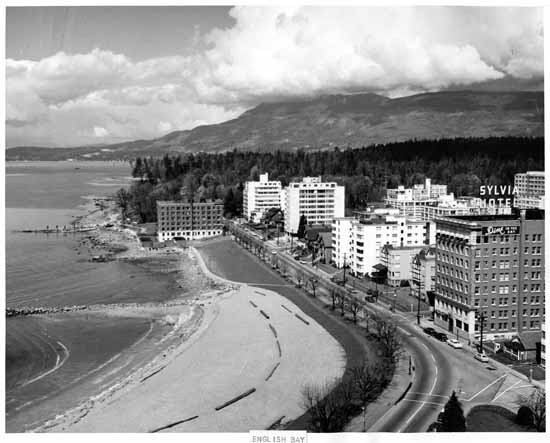 —
I have a friend (Mr. X) who is one of the top minds in real estate in the city. He's a man who has bought and sold hundreds of apartment buildings throughout North America over a nearly four decades long career.
I was with Mr. X in Southeast USA back in 2011, while he was acquiring some buildings in the area following the financial crisis and when the Canadian dollar was at par with the USD. In hindsight, Mr. X looks to have made a pretty good bet on both fronts.
Over dinner one night, we got to talking about the real estate industry in Vancouver. More specifically, we were chatting about what a wealthy investor should do with a substantial sum he wanted to keep safe.
We got to talking about the West End.
"West of Denman's as good as gold," the tycoon said.
—
David and Mark Goodman are an influential family of apartment building brokers in Vancouver, Canada, with an excellent newsletter on the subject.
The other day, the Goodmans sent out their latest property for sale: a 23 unit building West of Denman for $9.45 million. The cap rate is high for the area: 3.8%, because there's a massive flat tower blocking its otherwise impeccable near-waterfront location. A high cap rate for Vancouver is preposterously low compared to other markets, where investors demand a much higher return for tying-up their capital.
Since we have a lot of goldbugs as readers at CEO.ca, we thought we should share some 'West of Denman' gold. Property details courtesy of the Goodman Report (Link here).
—
I'm obviously writing about this to indulge the affinity I've always had for the West End of Downtown Vancouver. It began back in highschool when my pals and I used to pillage at the Great Wall Mongolian BBQ on Deman St., which 15 years later, I still enjoy from time to time.
Also my grandparents Sonny and Maureen had their first date at the Sylvia Hotel, which is right on the beach in English Bay. It was a date tradition that has carried on in my family; my dad and mom had one of their first dates there, and I've even entertained a debutante or two there (in my single days).
I'm not yet in a position to buy the building that the Goodman's are selling (especially after last week's market activity), and even if I was, I would probably hold out for something on the water (wishful thinking). Instead, I will indulge my inclinations with a cocktail at the Sylvia Hotel, or a tasty, yet casual meal at the Great Wall Mongolian BBQ.
After all these years, both places, like the neighbourhood they are located in, are also still 'good as gold'.