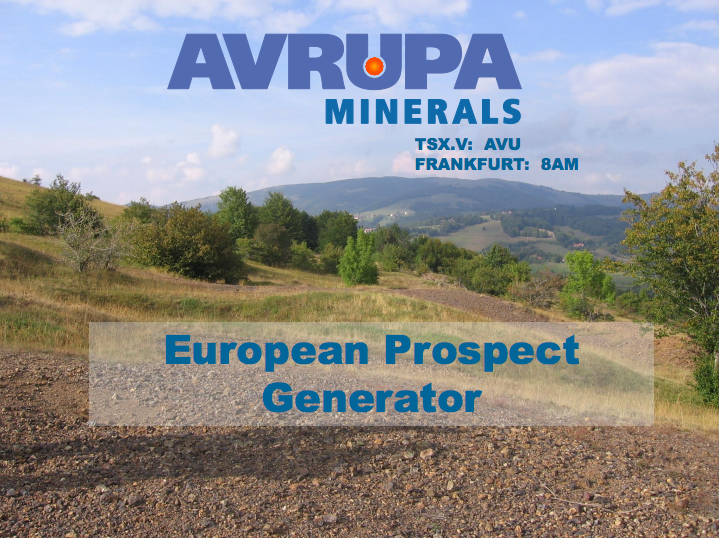 A prospect generator is a mineral exploration company that identifies drill targets and finds partners to pay for the drilling.
By farming out the projects, they reduce their risk, and often keep a piece of the upside. This is considered a more sustainable junior mining business model than pure grassroots exploration in a concentrated vehicle.
Examples of companies using this business model include Virginia Mines, Eurasian Minerals, Riverside Resources, Millrock Resources, and Avrupa Minerals.
Avrupa Minerals is the European focused prospect generator firm of Mark Brown's Pacific Opportunity Capital, a respected and moderately successful mining venture fund, whose achievements include Rare Element Resources. First financed for $0.35, Rare Element traded higher than $15 per share during the rare earths mania of late 2010, early 2011.
With projects in Portugal and Kosovo, Avrupa has been creative in maintaining a steady stream of joint venture partners for its exploration projects. The company is led by Paul W. Kuhn, an American geologist.
Major copper miner Antofogasta and junior Blackheath Resources are exploring various Avrupa projects in Portugal.
Byrnecut International Ltd., an Australian mining contractor, can earn up to 85% of the Slivovo project in Kosovo. They are currently earning into 51% by spending € 640,000, and can reach 85% by advancing the project to a full feasibility stage.
This morning, Avrupa announced the first set of drill results from Slivovo. The JV drilled an impressive 126.5 meters of 6.2 g/t gold in hole SLV 004. The news release lacked any clarity on the specific drill intervals which could be skewing the overall 'headline' figure. Clarification from management is needed.
A few more drill results will be released in early 2015.
Drill targets were identified by a foot reconnaissance program, Avrupa director Mark Brown told me. This "walk about" identified a sizeable gossan outcrop that their mining contractor partners, who don't typically take on exploration activities, were motivated to drill.
Note the drill hole was "down plunge" or "down the throat" of the expected mineralization, meaning the hole tells us little about the dimension of the potential ore body. The true width of the mineralized area may be less than 100 meters, Brown cautioned.
@travmcph Encouraging discovery, but clearly drilled downdip and fault bound on all sides. Other targets look interesting on the project tho

— Rob McLeod (@goldfinder12) December 17, 2014
In early trading Wednesday, shares in Avrupa were up 30%, last at $0.26. The company last raised money at $0.25 in August (with a full warrant at $0.40), and will close out the year with roughly $600k in its treasury, according to Brown.
Today's result is good stuff for the junior mining sector, which is getting easier to track, because there are far fewer companies doing meaningful work.
Have any perspectives on Avrupa's drilling or projects worth sharing? Please share your thoughts below.
No financial conflicts with Avrupa exist. As always, please do your own due diligence.