This was a very constructive week for the gold mining sector – a few things stand out:
The GDX rose 3.84% and the GDXJ rose 6.44% even as gold itself fell .65% on the week
GDX made a higher low and a higher high vs. last week and also posted a higher low for the 2nd consecutive week
GDX posted a weekly close above its 50-day simple moving average for the first time since August 29th, 2014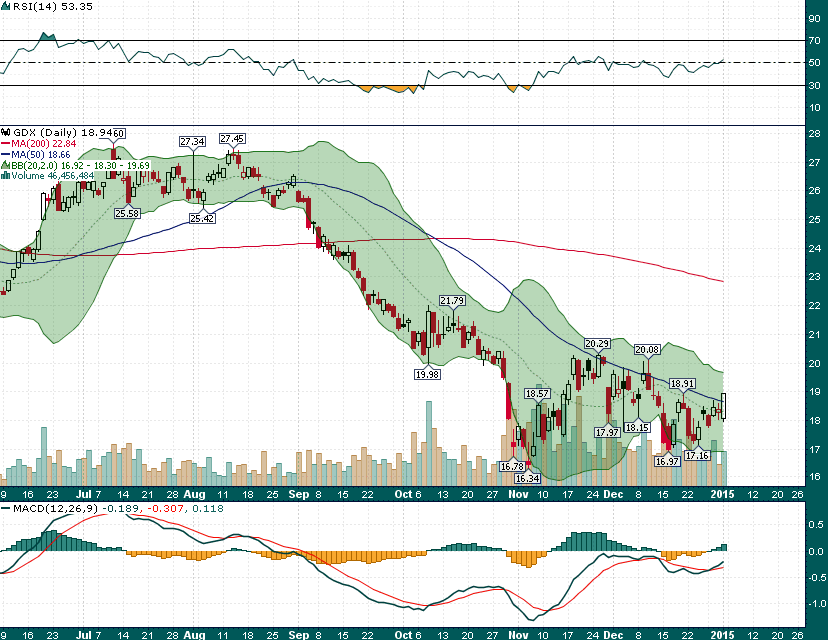 GDX closed at the high for the week as the daily RSI-14 crossed back over the median line pointing higher
There was significant options activity in March & June GDX calls today including one trade in particular where a large trader paid $264,000 for a batch of June $23 strike calls (21.4% above today's closing level) – I view this sort of large trader options activity as a gauge of smart money sentiment. Simply put some speculative money is flowing back into this beaten down sector.
Overall it was a constructive week and a very good start to the new year for the gold sector. The bottoming process which began in late-October is starting to show signs of transitioning into a nascent uptrend. Only time will tell if this will be the case although there can be no doubt that some green shoots sprouted up this week.