Deutsche Bank is out with some compelling slides on the Canadian housing market that should cause any good Canuck to sit up and take notice: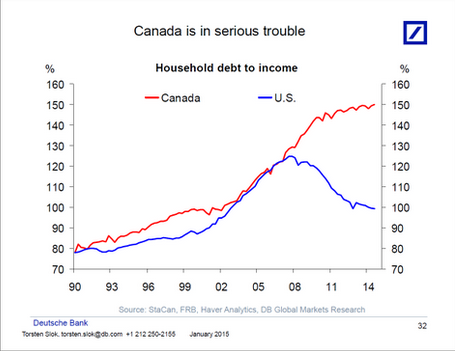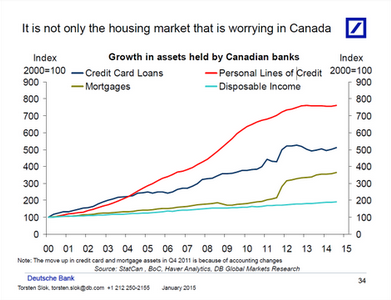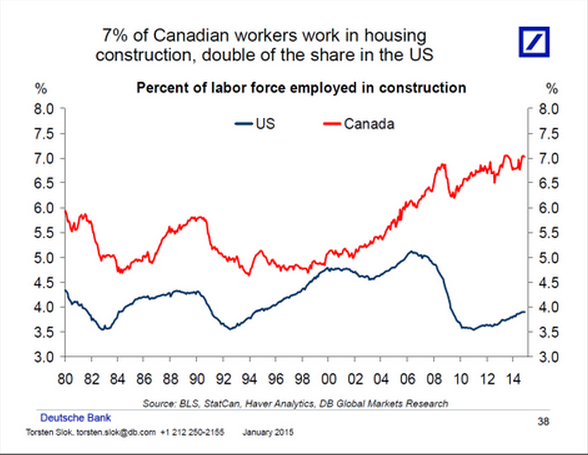 There are more slides in the report but the picture is pretty clear. Canada has undergone a tremendous real estate boom during the past decade and prices in certain places such as Vancouver are absolutely red hot. Vancouver real estate agents will tell you that Vancouver is a unique market given its location and high quality of living etc. However, one must really wonder if a median house price that is more than 10x the median household income is sustainable regardless of all the wonderful attributes that Vancouver has to offer.
Moreover, there is a potentially toxic combination brewing: The Canadian property owner has never been more leveraged just as we are in the throes of a brutal bear market in the metals & mining space and witnessing a nose dive in energy prices (crude oil & natural gas). Probably one of the most exposed firms to a major downturn in the Canadian consumer and Canadian property market is Royal Bank of Canada whose stock chart is beginning to show early signs of putting in a major top: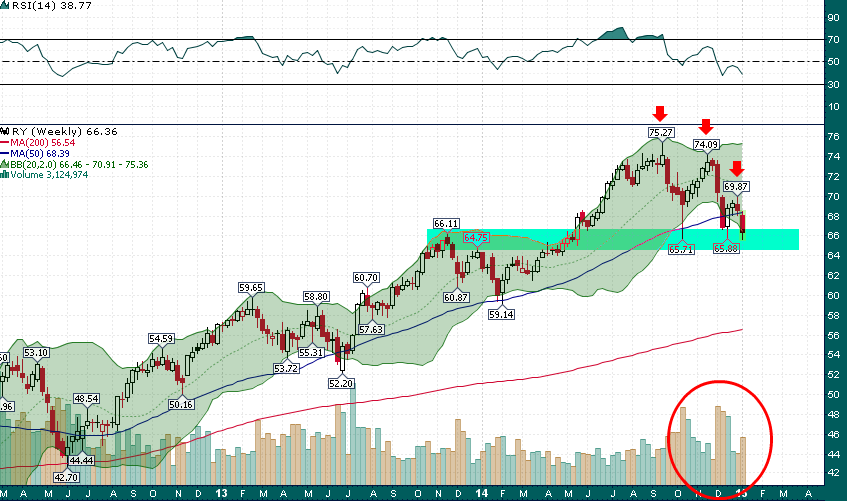 Lower highs since the peak in September in addition to several large red bars with heavy volume – a breach of $65 to the downside would be an ominous sign.
Housing market bulls will probably be quick to point out that skeptics have been bearish on Canadian real estate for years and have continued to be proven wrong. However, one must wonder if the recent sharp downturn in the Canadian energy sector will prove to be the straw that broke the camel's back.
A recent presentation from the Bank of Canada estimated that Canadian housing prices are as much as 30% overvalued: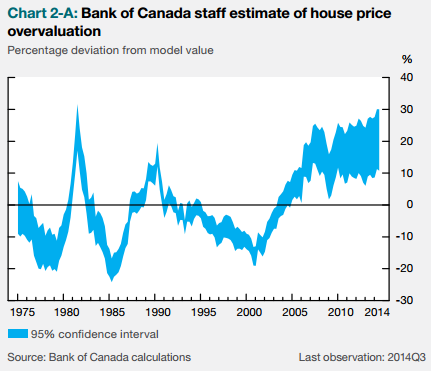 Two recent trends in the Canadian real estate market were also seen at the peak of the US real estate bubble in 2006:
1. Subprime borrowers
"A more worrisome aspect of this trend is that a sizable proportion of new uninsured mortgages are being issued to riskier borrowers," ~ Bank of Canada report (December 2014)
2. Commercial real estate boom
Oh, and when asked about his prognosis for the Canadian property market Bank of Canada Governor Stephen Poloz uttered the infamous "soft landing" phrase that former Federal Reserve Chairman Ben Bernanke used so often as the US real estate bubble came tumbling down…
My colleague Tommy Hump is not soo bearish, here's his thoughts on the gold bars of Canadian real-estate (click here).