Morgan Stanley is out with some interesting research this morning highlighting the strong positive correlation between copper and oil prices:
Aside from the fact that both commodities are greatly affected by global economic growth there is another important factor as to why the oil price can end up having a large impact upon copper prices. Oil accounts for 7% of the marginal cost of copper production (assuming oil other variables remain unchanged), therefore the recent 50%+ plunge in oil has caused the marginal cost of copper production to fall further. In addition, there are several other factors that have recently put downward pressure on copper production costs (via Morgan Stanley Commodities Research):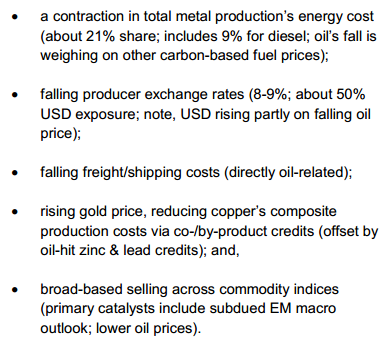 The technical picture for copper continues to be dreadful and I am sticking with my 200-month moving average downside target for the red metal which was highlighted last week.